All Of Brisbane's Best Wedding Vendors You Need To Know About
Planning a wedding? Bookmark this page STAT.
---
Getting married is a pretty big deal. Some would even go so far as to say that it's one of the most important days of your life! But unless you're a wedding planner (or really, really good friends with one), navigating the tricky world of wedding planning can be a struggle. To hopefully make your experience a little better, we've put together a list of our favourite wedding vendors across Brisbane (and beyond) to make planning your special day that little bit easier.

When it comes to the perfect wedding venue, you really can't beat the wide-open gardens of Victoria Park! Surrounded by ancient trees, parklands and city views, Victoria Park offers couples six unique wedding venues as well as private bars and exclusive outdoor decks. Whether it's the Victorian charm of the Ballroom, the grand and spectacular Marquee, or their stunning new venue, The Courtyard, you're ensured unbeatable views of Brisbane City while still being in a convenient location for your guests. Still not convinced? They were recently awarded Most Romantic Wedding Venue at the 2018 Lux Global Wedding Excellence Awards!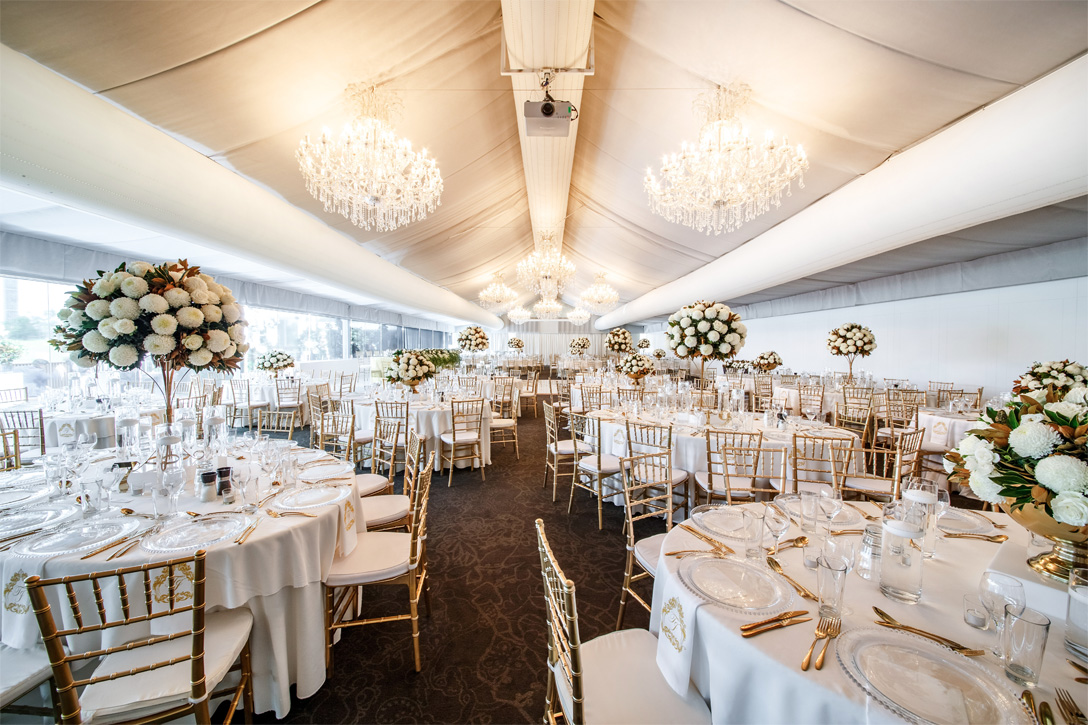 With panoramic views of Brisbane and beyond, Summit Restaurant is one of Brisbane's most iconic wedding venues. With all-inclusive wedding packages designed to cater to all your needs, they make it as easy as possible for couples to plan their special day. Of course, they still want your special day to feel like "you", so their friendly and professional Events Team is excited to go above-and-beyond to ensure your wedding is what you've always dreamed it would be. In fact, their Events Team was even voted Queensland's Best Function Coordinator at the 2018 ABIA Awards!
The Refinery is owned & operated by a husband-and-wife duo who understands how difficult it can be for couples to plan their special day. With a spectacular 12m long marble bar, a private garden courtyard (that doubles as the perfect space for post-ceremony drinks and canapés!), and industrial-chic finishings, it's not hard to understand why The Refinery is garnering a reputation as one of Queensland's most loved event spaces. The Refinery was born out of a desire to offer couples a minimalist warehouse space that is equally stunning as a blank canvas or when jazzed up with your personal styling touches. To make planning your wedding as seamless a process as possible, they offer a full range of services, including amazing dining and drinks packages courtesy of sister-venue, Rogue Bistro – this ain't no average wedding food! By providing a bespoke wedding venue that can provide everything from a stunning wet weather option to all the finishing touches (including beautiful crockery and on-trend furniture), this spectacular and versatile wedding venue is making it easier than ever for couples to create their dreams wedding.
Just picture this: your special day has finally arrived. All the planning with your dedicated wedding planner (courtesy of Brisbane Racing Club) has paid off. And now you are exchanging your vows with your forever-love under the stunning branches of the iconic St Leger Fig Tree. Sounds dreamy, doesn't it? As one of Brisbane's most picturesque destinations, Brisbane Racing Club offers their couples a range of stunning venues to choose from, as well as world-class chefs, personalised wedding packages, a dedicated wedding planner, and tailored menus. With a unique combination of Heritage-listed, old world charm alongside modern and chic style, Brisbane Racing Club's range of venues will take your breath away. But more than just a wedding venue, it's their commitment to going above-and-beyond that really sets them apart. Get in touch with them today to learn more about their venues and wedding packages.
Executive chef Matthew Jenkins and Owner Beau Vedelago know how to host an extra special wedding! For couples that are looking for a wedding venue that boasts old world charm and plenty of character, Factory 51 should be at the top of your list. With urban industrial character, barn-like red brick walls, rustic charm, a dazzling crystal chandelier, and your own private marble bar and laneway alfresco area, it really is the wedding venue of your dreams! With a variety of dining options (such as traditional plated style, share table feasting and cocktail style) as well as handmade timber furniture, crystal glassware, Spanish tableware and the ability to add your own personal styling touches, Matt and Beau will help you experience the perfect day.

Founded by a passionate husband-and-wife team, Jamie and Cara, Brisbane City Celebrants is a favourite among Brisbane couples who are looking to tie the knot! Deeply passionate about celebrating love and with over 10 years of industry experience, Jamie and Cara enjoy delivering modern and contemporary ceremonies that are upbeat, genuine, and the highlight of the day. They are celebrated for their ability to connect with couples and craft an engaging and seamless ceremony that best celebrates that individual couple and their love. From same-sex weddings to vow renewals to elopements and everything in between, it's no surprise that they are Brisbane's most highly recommended Marriage Celebrants on Google.
Not only is Erin Woodhall a pocket-rocket of energy and personality, but she also adores everything to do with weddings. From when you first meet Erin, she'll do her best to learn what makes you and your S.O so special. And, when it comes to the big day, she'll share your story with your guests and ensure your special moment is a celebration of you and your love. Her delighted couples are known to refer to her as bright and bubbly, and as someone who is talented at ensuring a ceremony is the perfect blend of personal, relaxed and humorous. She also has some pretty epic ninja skills – she'll be there officiating your ceremony, and then when the time comes for your first kiss as a married couple, she'll happily (and stealthily) slide out of view so that you can get the perfect photo! Don't believe us? Take a look at her Insta pic below.
https://www.instagram.com/p/BoGka3hlr8U/
Paul Voge is a very cool, very friendly guy. He understands how difficult it can be for couples to plan all the details of their wedding and that finding a celebrant they feel comfortable with is often easier said than done. Paul's personal experience finding the perfect wedding celebrant is a big reason why he decided to become a Marriage Celebrant. He wants your wedding and ceremony to be a celebration of your love and one that suits your personality. Understanding that ceremonies aren't "one size fits all", Paul goes above and beyond to ensure his couples enjoy a memorable and personal ceremony. Plus, if you're confused about the legal requirements and everything else you have to do, he'll help you cross the t's and dot the i's.

Having styled hundreds of weddings since 2013, Tricia of A Little Bliss Events is celebrated as one of the best wedding stylists across Brisbane and the Gold Coast. With a keen eye for detail, Tricia is passionate about bringing together all aspects of wedding styling. From furniture hire to reception styling, floristry to garden party styling, Tricia is able to bring an unbeatable 'wow' factor to your special day! To make planning your wedding even easier, she offers a select range of ceremony and garden party packages upon which you can add your own personal touch. If you're not sure where to start, get in touch with A Little Bliss Events today to organise a free 1-hour consultation and discover how you can make your dream wedding come to life!
https://www.instagram.com/p/Bkcrq_mBw-c/

As one of Brisbane's premier beauty and styling boutiques, Feriel of The Verve Lounge is passionate about helping her clients look and feel beautiful on their wedding day. Offering a wide range of skin treatments (including facials, LED, microdermabrasion, filler injections, peels as well as the only provider of Babor skincare in Brisbane), Feriel offers more than just your standard makeup packages – she is even able to advise brides-to-be on how to prep their skin in the weeks leading up to the wedding! The Verve Lounge offers a variety of bridal packages to ensure that when your special day does arrive, you and your bridal party arrive at the ceremony to steal the show!
https://www.instagram.com/p/Blrj3u2lvJD/

Bespoke stationery that has been lovingly handcrafted for you and your wedding is one of the most stunning ways to add a personal touch to your day. Combining traditional letterpress and foil print methods with a modern design aesthetic, Yesterday Creative knows the value of a perfectly crafted invitation. Brisbane's best answer to luxury wedding stationery, their one-of-a-kind invitations and custom design process allow each couple to let their inner-creativity shine. From your first meeting, your individual flair and personality will be woven through the process, right through to the day of print where you have the opportunity to view your invitations as they are printed on their vintage 1950's and 1890's letterpress machines. When you finally hold your finished invitation suite, it's impossible to not be stunned by the fine, impeccable detail lovingly embossed into each piece of stationery. 
Whether your quirky and cute or classic and romantic, the team at The Paper Empire can help you source the perfect stationery and invites for your wedding. Owner, Creative Director and CEPO (Chief Executive Paper Obsessive), Emily Anthon, has always been passionately fascinated by how something as simple as paper can make life's special moments extra memorable. With a stunning array of paper, gift wrapping, ribbons and embellishments, their crafty and talented team would be delighted to help you curate the perfect stationary selection for your wedding, covering everything from invites and table placings to thank you cards and more.

There aren't enough words to explain what a good wedding planner can do for you and your big day. From guiding you through the process to being on-ground when the day arrives, a wedding planner ensures that your wedding comes off without a hitch – and, most importantly, frees you up to actually enjoy every minute of your day. Owner and Creative Director Danielle knows how difficult it can be for couples to make their dream a reality. As a wedding planner extraordinaire who can assist with every aspect of planning, styling and coordination, Danielle will tap into your personality and the details that make you special and incorporate them into your wedding. Plus, her expansive network of vendors means she can help connect you with businesses that can help make your day pop. Want a photo booth? A specific style of flowers? A pop-up gelato bar? She's your gal.

Owner, designer and dressmaker Ella Stephenson spent her childhood surrounded by creative seamstresses. With an unrivalled passion for custom wedding dresses, Ella Moda gowns are known for their flawless construction, highest-quality material, distinctive cuts, and romantic details. As well as boasting one of Brisbane's most beautiful collections of bespoke wedding gowns, Ella Moda also offers custom wedding dress services; Ella and her team can help you create an original design from your inspiration and reference images and will make it your own. Your wedding day deserves a beautiful gown that makes you look and feel your most beautiful.

We'll be honest – the things that Kate Dawes can do with flowers boggle the mind! From grand archways and ceiling installations to dreamy table displays and detailed bouquets, Kate is celebrated as one of Brisbane's most talented floral stylists. No matter what style you are looking for, Kate and her team will craft the perfect selection of fresh blooms to ensure your guests' breath is taken away. With a wide range of services (including table centrepieces, bridal bouquets, floral chandeliers, green walls, floral arbours and more) your only difficulty will be choosing just how big you want to go!
With a penchant for spectacular floral installations and dreamy bouquets, Mrs Gibbons Flowers has earned a reputation as one of Brisbane's most sought-after floral stylists. With over 20 years combined experience in floral styling, wedding coordination and business management, owners David and Amber Gibbons are delighted to craft spectacular florals for their clients. Sourcing unique blooms from all across Australia, they'll produce something unique that will make your dream event come to life! Whether it's a simple elopement or a grand affair, they'll make your wedding the most beautiful day possible.

The hardest part about writing about Hansel & Gretal is choosing just one example of their work to showcase! A quick scroll through their Instagram will have you drooling for massive iced vovo cakes or smiling at stunning hand-painted designs. Owner and cake-whisper Megan Norris is the talent behind Hansel & Gretel cakes. With a skill for making cakes that look just as incredible as they taste, Megan sources only the best quality ingredients for all of her cakes. With an awareness of the latest techniques and materials in the industry, Megan enjoys going the extra mile for her clients. There's no picking a design out of a binder when you meet with her! With complimentary cake tasting appointments as well as an incredible catalogue of previous work, she's well and truly earned her reputation as one of the best in the biz.

When you want to add an extra touch of personality to your wedding, it helps to have a Rolodex of creative businesses you can rely on. Below are some of our favourite vendors to add extra delightful moments of joy for your wedding.
A custom-made LED tube light is exactly the final touch your special day needs. You can either purchase one of their ready-designed styles (either for keeps or for hire!) or work with the team to design your very own style. Personally, we recommend buying. Imagine how cool that bad boy will look during your next dinner party?!
Hit-up Rum Runners for pop-up bar packages, beer barrel dispensers, bar staff hire, premium marquee hire, picnic events and glassware hire! These guys are all about DIY ideas that won't break the bank, keeping prices low and classy vibes high.
For real-deal Italian gelato that will delight your guests, the charming and quaint Wheel + Spoon gelato bicycle is a must-have. Their one-of-a-kind bicycle & cart offers a wide range of flavours and will have your guests talking about it for weeks to come.
It's a photobooth in the back of an OG Kombi. What's not to love?! They are equipped with the latest photo booth gear which produces the best quality photo strips in the industry and memories that your guests will talk about forever!
Liked this? You'll love these!
Our Pick Of Some Of Brisbane's Best Wedding Venues: 2018 Edit
A Behind-The-Scenes Look At Insta-Worthy Floral Installations
6 Hen's Party Activities In Brisbane For Every Kind Of Bride