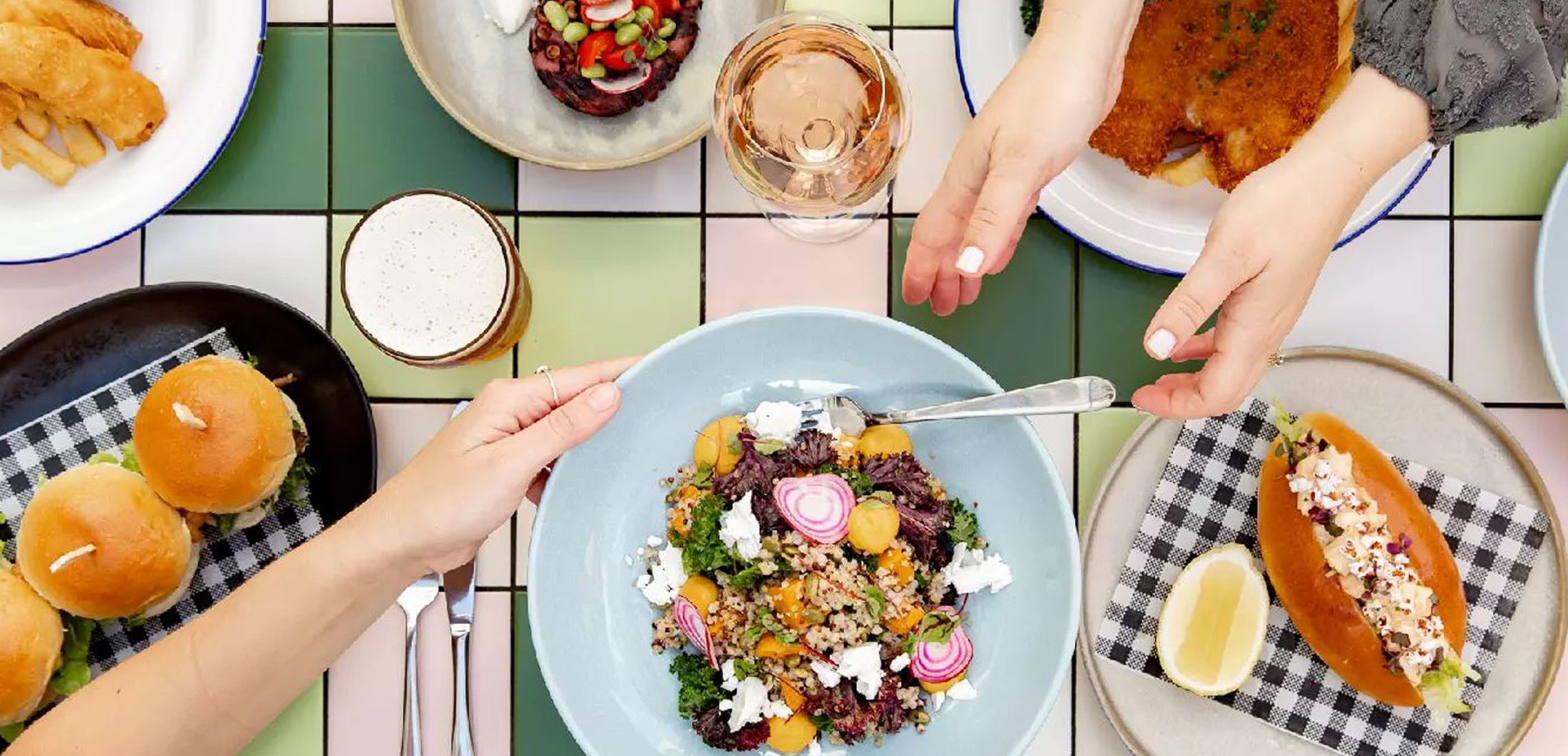 Get Frothy With Brisbane's Best Pubs
Where to find your next frothy
---
Although we all love the newest and trendiest restaurants in town, sometimes all we need is a good old fashioned pub feed.
From a frothy cold one to a plate-sized chicken parmi, some of our fave watering holes bring the kind of casual vibes you just can't get from a fine dining feed. 
Whether you're meeting mates for a pint and bite, watch the game, or try your luck at trivia, make its a meet-up at one of Brisbane's best pubs.
Did we miss someone from the list? Let us know here!
The Breakfast Creek Hotel
Albion
One of Brissy's most iconic pubs, The Brekky Creek is known for its premium quality steaks and "Beer Off The Wood". Attracting locals on the reg, this iconic pub is located right beside the river with views to enjoy with your cold bevy. Featuring five bars including a Spanish Garden and historical Beer Garden, kicking back with your fave drink on a Sunday looks good here.
Osbourne Hotel
Fortitude Valley
Situated in the bustling Fortitude Valley, the Osbourne Hotel promises a good time. With specialty beers, function spaces, and great food, this atmospheric pub is great for a hearty lunch, drinks with friends or your next birthday celebration. From Drag Queen Bingo to ANZAC Day, and more, the Osbourne Hotel hosts special events all year round. Check out Thursday's 'Get your tins out!' for quality, cheap beers, and 'The Sunday Social' to end your weekend with drinks, food, and live music. A vibrant scene any day of the week, the Osbourne Hotel promises a good time, no matter the occasion.
The Story Bridge Hotel
Kangaroo Point
Beneath Brisbane's Story Bridge lies the iconic Story Bridge Hotel, one of Brisbane's most iconic watering holes. Over its 136 year history, this hotel has consistently delivered quality food and beverages to hungry and thirsty patrons. With multiple bars and function spaces, there is plenty of room for everyone to enjoy a classic pub feed and a Saturday night boogie on the dance floor. With exciting renovations underway, parts of the hotel are closed, however the pub is still open 7 days a week. This hotel promises to satisfy that pub feed you've been yearning for and a pint of their finest beer to wash it down.
The Crown Hotel
Lutwyche
Serving up pint after pint for over 140 years, Lutwyche local The Crown Hotel has had a facelift, breathing new life into the beloved hangout. Boasting a new beer garden, bar, bistro, and gaming area, the new and improved pub has a modern feel while still keeping some of its rustic touches. With exposed brick walls and greenery hanging from the walls, the hotel is a breath of fresh air for lovers of a pub outing. Still serving up classic pub plates, there's also some new additions to the menu to satisfy all tastebuds. With a jam packed program featuring drag bingo, jazz, and trivia, there's never a dull moment at The Crown.
Regatta Hotel
Toowong
Brissy folks are well acquainted with the Regatta Hotel – and for good reason! Featuring an iron-laced veranda and iconic location on the banks of the Brisbane River, the pub is a rite of passage for uni students looking for a post-class refreshment, and families looking for an easy outing with the kids. Standing for close to 150 years, the Regatta Hotel has always been about good beers, good food, and good times. With numerous venues within the space, the Main Bar is your go-to place for a classic pub feed and a cold pint of beer. Keen to celebrate? The Regatta offers multiple function spaces for all types of events, with the most iconic being on the veranda overlooking the river.
The Normanby Hotel
Red Hill
One of Brisbane's most renowned pubs, The Normanby Hotel has been given a facelift, looking better than ever! An iconic Brisbane spot, the Normanby Hotel is the place to go with a bunch of mates to catch up and watch sport while sipping on quality beer, wine, and cocktails. Offering a range of 16 beers and wines on tap as well as handcrafted cocktails, it's the perfect place to while away a lazy Sunday afternoon. This casual hangout welcomes four-legged friends too, meaning you can enjoy a cold one with your best bud by your side.
The Boundary Hotel
West End
Talk to any 4101 local, and they'll tell you the best pub in town can be found in their own backyard. Offering great service, fresh food, an array of drinks, and plenty of entertainment, The Boundary has got it all. Boasting five dining areas, there's plenty of room for all walks of life (including furry friends!). Enjoy a parmi and a pint in the sunshine of The Backyard, or cool down with a spritz on the Rooftop Bar. With epic dining deals all week long, including 40% off main meals on Monday, 2-for-1 pizzas on Tuesday and $12 burgers on hump day, getting your pub fix has never been more affordable. Swing by The Boundary any day of the week and you're guaranteed a good time!
The Plough Inn
South Brisbane
Located in the heart of Brisbane, The Plough Inn is nestled beside Southbank's iconic bougainvillaea arches. Enjoy a cold one while people-watching and looking out over the tranquil parklands. The Plough Inn offers a modern twist on pub food, with an extensive menu to satisfy everyone in the family. Adorned with many weekend specials, enjoy ribs on Monday or get a slice of their pizza deals on Tuesdays. Take a walk along South Bank's scenic boardwalk overlooking the city then get a feed – The Plough in is the perfect way to unwind from a busy week, or get your weekend started.
Tippler's Tap
Fortitude Valley, South Brisbane
Great beer and epic food, need we say more? Tippler's Tap is a destination for all beer lovers down for a good time. Pioneers in the craft beer realm, Tippler's Tap has a focus on quality, independent craft beer. Along with frothies, they also offer delicious, hearty bites. Get your Chicago-eats fix and wash it down with some of the best local beer in a friendly and relaxed atmosphere, any day of the week. Make sure to try their famous wings to get the full Tippler's Tap experience.
Pig 'N' Whistle
Brisbane City, Fortitude Valley, Indooroopilly, South Brisbane
With six pubs dotted around the city, Pig 'N' Whistle is an icon in Brisbane, serving up traditional British pub grub full of flavour and flair. With hearty pub meals mixed in with modern-Australian dishes, Pig 'N' Whistle makes sure there is something on the menu for everyone to enjoy. Wash it down with a cold pint of beer or a glass of wine for true satisfaction. Remember to keep an eye on their socials as Pig 'N' Whistle always has something going on, whether that's a Beer Lover's Long Lunch or a night to watch and celebrate your favourite sporting event.
The Prince Consort
Fortitude Valley
An English-style pub with a modern twist, The Prince Consort gives us cosy, historical, and classic all rolled into one. Offering everyone's pub favourites from bangers and mash to chicken schnitty, your belly will be satisfied after a meal here. Grab your mates and spend your evening winning at Trivia Tuesday's or dominating at Drag Bingo. Located within the same space, there are five other venues to check out, all of which are as quirky as the one before. Check out Greaser, the underground bar, dance the night away at La La Land, a buzzing late-night club, or enjoy a Mexican feast at 400 Rabbits, an Aztec-inspired dining experience. There really is something for everyone here!
Stone & Wood
Fortitude Valley
From Byron to Brisbane, Stone & Wood takes all the best parts of the gastro-pub experience and turns it up a notch. Set inside the heritage-listed Trails Ltd Ice and Cold Stores building, the locale boasts a eight-hectolitre brewhouse and 24 taps pouring out exclusive brews and craft beers. As for food, the menu has been designed to complement your sips, from pork belly with Asian slaw to panko crumbed chicken schnitty. Plus, being sourced from the best quality ingredients and crafted with care aren't the only reasons why Stone & Wood delivers the goods – for every litre poured at the brewery, $1 goes towards local not-for-profit organisations. Now that's something we can toast to!