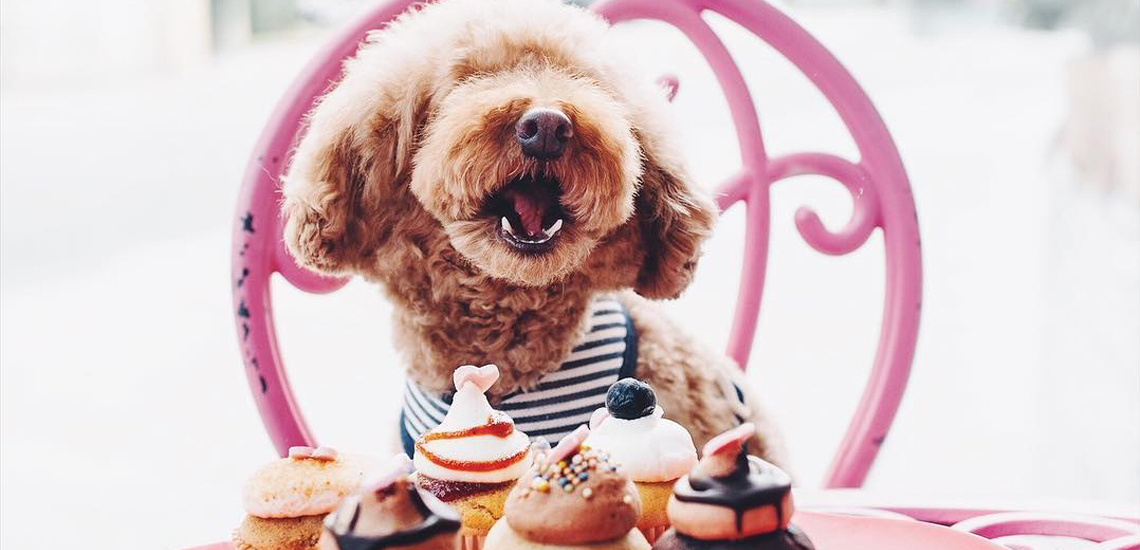 28 Of Brisbane's Best Pet-Friendly Cafes To Check Out
Breakfast Club? No. Paw Club? Yes!
---
Long gone are the days when you had to leave your adorable pets at home while their sad faces watched you from the window. Now you can enjoy breakfast with your pets at some of your favourite venues! Here are Brisbane's best pet-friendly cafes to discover this weekend.
Frenchie's Café is a dog's paradise! With Polaroids of their canine regulars covering the walls and a woofers menu specifically for your furry friend, your fur child can chow down on some doggy pancakes or scrambled eggs with a woofachino. Not to mention, your pet will receive their own water bowl and mat to lay on while you indulge in a bully's benny or a staffy's smashed avo.
View this post on Instagram
A large outdoor courtyard, an assortment of house made vegan dog treats and ice-cream from Hugo's Ice Creamery makes this café the perfect place to brunch with your pup. With plenty of dairy free and vegan options for the humans too, Ginger & Rose has something for everyone (and every dog.)
View this post on Instagram
If the name is anything to go by, Little Black Pug Café was created by dog lovers, for dog lovers. With dog themed eats for the humans (we see you poppy dog cakes) and a range of biscuits, donuts, ice-cream and of course, puppycinos for your fur baby, we have no doubt that both human and dog will leave feeling satisfied.
View this post on Instagram
Ironbark Dog Café is Brisbane's only off-leash space for you to enjoy your fave beverage with your best friend. Head up to the attached Whitehouse Blend Café for all your coffee, puppychino and treat needs, before relaxing in the shady garden area together. There is also a basket of toys for your pup to enjoy!
You and your pal can dine like royalty at Badminton Brew. For the doggos there are puppychinos and a range of handmade treats from Rustic Ruffs and for the humans, free brownies with every drink! With a cute outdoor area to chill out in, this café will delight the both of you.
View this post on Instagram
With dog sculptures and dog photos galore, this truly is a café dedicated to our furry friends. There is a doggy menu featuring a range of biscuits, muffins and doggycinos and all puppers enjoy a free welcome treat upon arrival. It doesn't get better than that!
Often playing host to a number of events in support of the RSPCA, Atticus Finch Café definitely scores a spot on our list. They have leash hooks and tasty treats for your pal and plenty of sweet and savoury options for you too. You may even be lucky enough to meet a beautiful rescue dog!
View this post on Instagram
The newest dog friendly addition to Brisbane has just opened in beautiful Teneriffe! These guys pride themselves on being sustainable by serving up the freshest local produce and ethical coffee from Mr Coffee.
View this post on Instagram
Not all breakfast spots are created equal. Some offer innovative and exciting menus. Others also let you enjoy a tipple or two with your toast. And some boast truly stunning views! Mary Mae's is one of the few BNE establishments that offer all three and that's why they are a must-include on this list. Situated right on the Brisbane River, Mary Mae's has a simple but mouthwatering menu that includes all your favourites (but we really can't go past the breakfast bagel with a fried egg, crispy bacon, smashed avo and Sriracha ketchup). Sit at one of their boardwalk tables with your pooch as you sip on your morning java and watch the boats go past. Honestly, can you imagine a better way to spend your morning? We can't.
Campos Coffee | Fortitude Valley & Newstead
Tucked away in a little Fortitude Valley laneway is the perfect spot for you and your furry friend. Campos Coffee even has a great dog parking area so you can enjoy a coffee and the company of your bestie.
If you're heading out this weekend for brekky with the girls, this is the perfect place to visit. Sassafras Canteen welcomes all types of customers – even the ones who are prone to licking people's feet. Now that's showing appreciation.
Perfect breakfast for you, clean water for them… perhaps even a tasty treat? There's no better way to enjoy your weekend than in the beautiful outdoor setting Double Shot Espresso has to offer.
Thise cute café in Kedron loves all customers, especially our four-legged friends. If you're looking for a new place for you and your furry pal, give this place a go.
With a large outdoor setting, our neighbourhood friends Alcove Café & Deli have the ideal spot for you and your pet. This is a definite yes from us!
We absolutely love what Saabi on Manson is all about. Grab a picnic rug and head over to the courtyard to enjoy time with your favourite pal.
Formerly known as Seven South Cafe and recently changed to Hyde Away Cafe you can expect a next-level menu, and it's also one of Brisbane's best pet-friendly breakfast spots. Swing past this weekend and enjoy great food and even greater company.
This café has the perfect outdoor area for both you and your pet. Indulge in great coffee or try an amazing acai bowl with your buddy by your side.
Remy's | Paddington
Daytime café and night-time bar, Remy's is the place to be this weekend. Whether you're drinking with friends or sharing food with your four-legged friends, you will love this venue. Don't forget to try the Snickers milkshake – amazing!
This one's a no-brainer. Brown Dog Café is a great spot to grab a coffee and soak up the sun with your pup.
Need a new haven for you and your pal? Qwerk Espresso welcomes all four-legged friends!
The food here is healthy, satisfying and your furry friends are welcome as well.
Fancy a silky latte? Or perhaps a pumpkin smash? Head over to Java Lounge for a relaxing weekend. Don't forget to bring along your pup and set them up in front of a water bowl out front.
Rumour has it that Goodness Gracious Café makes a killer coffee. Indulge in a warm heavenly drink with your pet at your side.
At award-winning venue Fitz & Potts, there's no need to leave your pup outside; bring them up to the rooftop to enjoy the fun.
View this post on Instagram
Known for its beautiful courtyard, big open deck and love of all four-legged friends, The Hamptons is a great place to bring your pal and chill out on a Sunday afternoon.
If you're a lover of fresh produce, Samson & Sophie is a must! Bring along your furry friend as well.
View this post on Instagram
With a secure spot for your furry friend and an endless supply of fresh water, you're set for a relaxing morning. There's a vast selection of amazing food to choose from, but our top pick is a hardy Pa's Pie.
We are obsessing of this brekky spot! If you love a big selection on your breakfast menu, this is the place for you. Kit 'n' Chow has Instagram-worthy brekky platters and of course your pal is always welcome here.
Liked this? You'll love these!
1. We've Sourced The Best Gelato & Ice Cream Scoops In Brisbane and Beyond!
2. Check Out Brisbane's Latest Foodie News Happening This Month
3. Brisbane's Best Cooking Classes To Go From Kitchen Disaster To Culinary Master