Brisbane's Best Personal Trainers
Health and fitness: this time, it's personal.
---
We get it. It's tough out there. Maybe your trust was broken. Maybe they crushed your self-esteem. Maybe they expected too much of you. But how will you know how great things can be again if you don't at least try? What we're saying is, the time has come for you to let go of the pain, get back on that horse, and find a new personal trainer.
Of course, there will always be doubts. The expense can be hard to justify, the workouts are intense, and that much enthusiasm towards burpees and squat jumps is nothing short of freakish.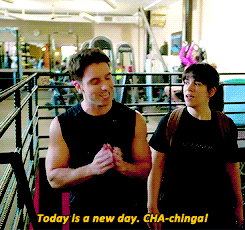 No.
But you can't quit as soon as the going gets tough, especially when there are so many benefits to reap.
We're talking about programs tailored to you and your lifestyle, nutritious meal plans, tips and techniques to maximise your workout and prevent or overcome injuries, awesome motivation, and of course, that dang accountability of having to show up and commit to this supportive, svelte son of a B.
That's why we're helping you get started on the road back to love health and fitness, with our top picks for the best personal trainers in Brisbane.
David Kitchin, Core Health Coaching
Dave is all about overcoming any pains, injuries and infirmities you've been struggling with so you can rediscover fun, pain-free health and fitness. For him, age is just a number when it comes to fitness. "There is always a solution for our physical and health challenges if we're willing to listen to our body and follow tried and true methods for great health and physical stature," he says.
Plus, not bragging or anything, he's a bit of a netball champ so he'll understand those nasty shinsplints.
Core Health Coaching
P: 0406 451 907
E: dave@corehealthcoaching.com.au
Caleb Mayberry, Think 24HR Fitness
If you're a sporty kind of gal looking to tighten up your fitness regimen, Caleb's your guy. With extensive experience in strength and conditioning training with multiple soccer and rugby teams, Caleb is interested in body re-composition and high intensity interval training through fun, fast-paced workouts, whether it's one-on-one or group sessions.
Think 24HR Fitness
P: 0414 715 101
E: caleb@think24hrfitness.com.au
Regan Donghi, Fitness First Lutwyche
If you're looking for some toning without the heavyweight champ look, Regan's your guy. Specialising in strength training for individual and group sessions, Regan will help you build lean muscle mass, reduce body fat and bring out the best of your abilities to make a positive lifestyle change. "I have a wide variety of clientele with individual goals that are met using specific training methods and body recomposition software," Regan says. "Seeing my clients leave satisfied and worked out after each session fulfils my own goal of making a difference in their lives."
Fitness First Lutwyche
P: 0439 995 039
E: regan.donghi@gmail.com
Isaac Calvert, Prestige Lifestyles International
As a health and fitness expert, sports nutritionist, adventure racing athlete (meaning marathons, triathlons and mud races) and director of his own personal training studio, we're confident in saying that Isaac knows his stuff. This multi-tasker is all about educated training, guiding you through those fitness myths with scientific research and helping you look, feel and perform at your best everyday. He's tough but fair when helping you achieve your fitness goals, with professionalism all the way.
Prestige Lifestyles International
P: 3852 5575 or 0420 455 770
E: isaac@prestige-fit.com
Dayn Sorenson
With multiple certificates in professional training, CrossFit, gymnastics, weightlifting and sports power training, Dayn has a special interest in nutrition, believing that diet is what holds most back in achieving their health potential. His motivations for getting you fit may be odd, but damned if they aren't practical. "I truly appreciate the opportunity to work with people to make them stronger and harder to kill in the event of a zombie apocalypse or just life itself!"
CrossFit
P: 0438 921 407
E: dayn.sorensen@gmail.com
Rebekah Strachan, Raw Training
Jumping in with a new trainer is a big commitment, which is why Bek Strachan has a "try before you buy" policy, offering your first sweat session on the house. Bek's love for group fitness and pushing boundaries led her to found Raw Training, a cost-effective way to train in group sessions with free goodies, good music and all-out exercises to make sure you're rounded out in mobility, strength and conditioning.
Raw Training
P: 0432 743 920
E: rebekah@rawtraining.com.au
Bianca Monahan, Sprout Health
Specialising in general fitness, nutritional health and pre and postnatal exercise, Bianca encourages a holistic yet realistic approach to health and fitness, with nutritional guides and recipes available on her website in addition to exercise programs and personal training. "I believe we place too much emphasis on symptomatic treatment of illness and disease rather than focusing on understanding the source of the problem and decoding what messages our bodies are sending us," she says.
Sprout Health
P: 0412 098 324
E: bianca@sprouthealth.com.au
Kim Baram, Amore Fitness
When the trainer and equipment come to you, so it's not as easy to cop out and snooze, that's amore! We mean Amore Fitness, Kim Baram's mobile fitness business. Kim knows the struggle of committing to your fitness so his main goal is to make it as easy as possible through motivation and bringing his expert training and top-knotch equipment all to you. Why not take advantage of Kim's MMA Training and literally kick your health woes in the butt?
Amore Fitness
P: 0407 032 491
E: info@amorefitness.com.au