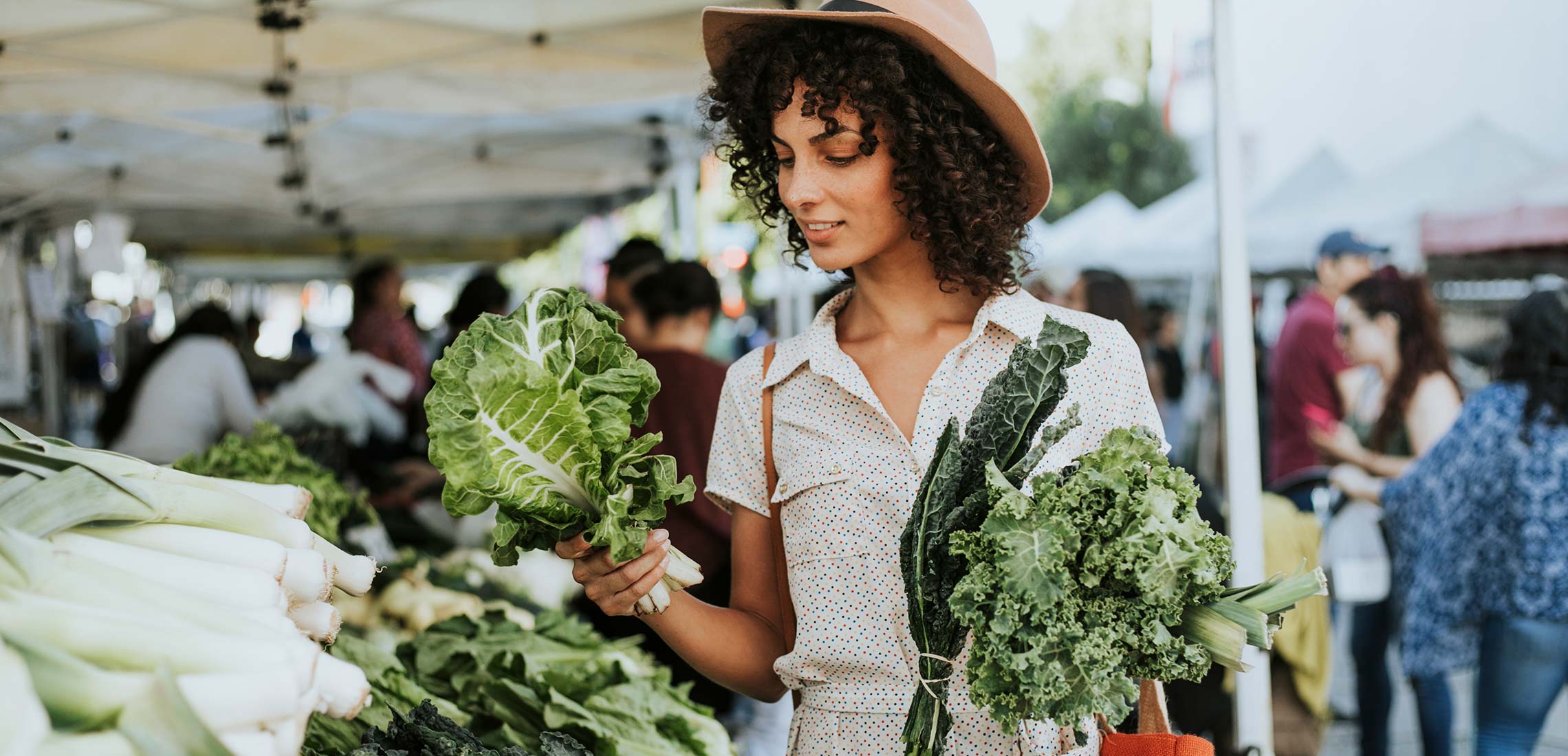 Brisbane's Best Weekend Markets
Support local growers
---
With the weekend on the horizon we can sometimes feel a bit underwhelmed by our lack of plans. With many places now requiring bookings, spontaneous weekend adventures are a lil harder to come by. Luckily, a number of Brisbane markets have started reopening their stall doors, allowing us to fulfil all of our weekend fantasies. How good's a Saturday and Sunday spent wandering through stalls, sipping on coffee, and embracing your inner hero as you #supportlocal.
Saturday
WHEN: Every Saturday 6am – 12 noon
Hands down, this is one of the most popular markets close to the inner city! Every Saturday, locals flock to these riverside markets by the Powerhouse and New Farm park for fresh eats, local produce, plants and of course, pooches! With New Farm Dog Park just around the corner, the markets make for an ideal day out for the entire family. Peruse the stall holders and try choosing what to eat for breakky before finding a glorious spot on the grass by the water. Before heading home with full tummy's and happy hearts, stock up on fresh fruit and veggies and enjoy the all-round vibes. It's certainly the place to be!
WHEN: Every Saturday 7am-1pm
Let's give a warm welcome to Brisbane's latest market! Urban Produce Market is launching in South Brisbane this weekend and we've got our woven bags ready for filling, alarms set for before dawn (eek!) and shopping list at-the-ready. Located on the corner of Fish Lane and Cordelia Street in South Brisbane, this is your chance to shop like a chef at Wandering Cook's inaugural market! Supporting small growers and producers, you'll get exclusive access to artisan pastries and breads from The Bread Social (thanks to border closures), sip on Small Batch Roasting coffee and shop restaurant-worthy produce that will last you all week! Saturday shopping = sorted.
WHEN: every Saturday 6am-2pm
Located on the corner of Montague Rd and Jane St in West End, the Davies Park Markets are a weekly community event featuring live music, fresh produce, fashion and artisanal gifts. Known as one of Brisbane's best community markets, you can even bring along your furry friends and family members for a wander through the stalls under the canopy of giant fig trees.
WHEN: first Saturday of every month (Mar-Nov), 9am-2pm
Spread across California, Bakery and Winn Lane, the Valley Laneway Markets take you through some of Brisbane's hidden gems. A unique and dog-friendly set-up, there are a variety of stalls including plants, ceramics, vintage and retro pieces, and curated handmade products. Enjoy local live music as you browse, surrounded by the diverse variety of retailers, cafes and bars that the Lanes have to offer. FYI, social distancing measures are being enforced, with the addition of hand sanitisers readily available and relevant government and health regulations implemented.
WHEN: every Saturday 6am-12pm
If you're after in-season and local fresh produce, the Carseldine Markets are the place to go. On every Saturday on Beams Road, you can do your weekly shop as you are serenaded by local live music and entertainment. For those who are looking for something to eat, there's traditional and gourmet food at every corner, with passionate producers and cooks ready to delight. Not to mention there's a huge seating and relaxation area – the perfect spot to people watch!
WHEN: every Saturday 6am-1pm
Nestled in the heart and soul of the Kelvin Grove Village, these Saturday markets offer a little bit of everything. Think: organic fruit and vegetables, a wide range of meats, delicious cheeses, and arts and crafts. There are various stores sure to tickle your fancy. Dogs are also welcome, so you can be sure that nobody gets left behind!
Sunday
WHEN: every Sunday 6am-12pm
Located next to the Nundah train station, the Nundah Farmers Markets are the perfect spot for your Sunday coffee and breakfast, or to stock up on your weekly fresh produce. Packed with a huge variety of fresh ingredients like gourmet meats, seafood, and farm-fresh eggs – you name it, they've got it! And you can also peruse a wide selection of flowers and plants, arts and crafts, home decorations, and health and lifestyle products. The markets are open every week, rain hail or shine, and currently have hand sanitiser stations as well as stringent sanitisation programs in all seating and bathroom areas.
WHEN: 1st and 3rd Sunday of each month 12-5pm
If you are looking to do some damage, but not break the bank, be sure to check out Suitcase Rummage in Brisbane Square. Free to attend as a browser or a buyer, the fortnightly event is a sustainable market alternative that promotes recycling and conscious consumption. Browse local's suitcases and belongings, hunt for a bargain, or participate in a good ol' haggle. There's everything you could think of available, including fashion, vintage, bric-a-brac, books, jewellery, shoes, records, and music. Check out their Facebook to keep up-to-date each month!
WHEN: every Sunday 8am-3pm
Whether you're after coffee, local produce or a unique birthday gift, these markets are sure to check all your boxes. Located in the heart of the Brisbane CBD in the City Botanic Gardens, the scenic views and surroundings as you peruse local cuisine and products, create a fantastic atmosphere to shop. A free market that has been open for 30 years, there is a range of art and fashion, live music, and international food and coffee. With such a prime location, make a day trip out of it and catch the ferry. Eagle Street Pier is only a nine-minute walk away! Not to mention, the markets are fully dog and family friendly, so let the kids run free in the park, or even take a visit to the newly refurbished playground.
WHEN: every Sunday from 6am-12 noon
If you're into upcycling, or just want to pick up a bargain, the Sunday Discovery Markets at Rocklea include over 380 stalls of goodies. With a huge variety of new and second-hand items, plants, collectibles, antiques, clothing, home, and kitchenware, uncover hidden treasures right on our doorstep. There's also plenty for food lovers, with international food stalls full of freshly-made delectable choices. Entry for children under 15 is free, with a $1 pedestrian entry fee.
WHEN: every Sunday 6am-12pm
Located in the Milton Green Complex, the Milton Markets are perfect for inner-west Brisbane locals and visitors and is bursting with food and creative goodness. Supporting some of Queensland's best growers, farmers, painters, designers and baristas, there are over 140 stalls accompanied with live music and children's activities. All topped off with free entry, it's a perfect choice for a weekend outing.
WHEN: every Sunday 8am-3pm
With waterfront views and picturesque surroundings, Manly Harbour Village on a Sunday is the place to be. With a range of 80-100 creative stalls, you can browse plants, food, jewellery, fashion, art, and more. You'll also find street and market food options, with pop-up food trucks and coffee stalls every weekend. If that's not enough for you, there are also local live music and entertainers, that are sure to keep your weekend feeling soulful and energetic.