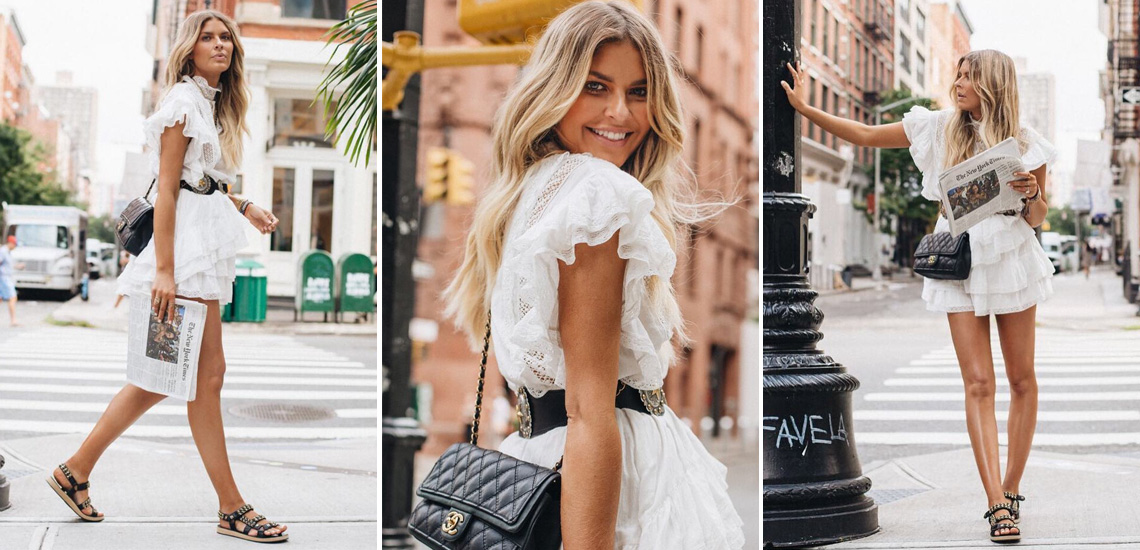 Our Round Up Of Brisbane's Best Blonde Specialists
From ice queen to blonde bombshell.
---
It's true what they say – blondes do have more fun. But, they also have a lot of upkeep to keep those locks shiny, luscious and creamy. Whether you prefer something warm and honey-toned, or an icy platinum shade, we've found some of Brisbane's best hairdressers for blondes to help you keep your blonde locks from going brassy.
Under the eye of Australian hair expert Brodie Lee, you're bound to discover your best ever blonde at Rokstar Hair Salon. As the winners of the 2018 and 2017 Australian Hair Industry Awards QLD Salon of the Year and 2017 Australian Hair Fashion Awards QLD Hairdresser of the Year, Rokstar Hair Salon has garnered an unbeatable reputation as one of Brisbane's best salons. They are particularly known for their freehand colour work and will help you achieve a chic, fashion-forward look that turns heads. For custom-blended colour and first-class treatment, make sure you give them a call.
Considered a 'hair-haven' by their dedicated clientele, owner Lily and her team at Bambi & Bear are easily regarded as some of the most talented colourists in Brisbane. If you're a proud blonde or looking to make the move to a lighter end of the spectrum, they will use a personalised blend of techniques (such as baby lights, hand-painting and foils) to ensure you get the perfect shade of blonde. Whether you want rich, creamy hues or perfect pastel shades, their range of Mr Smith and Olaplex will ensure your locks come through in optimal condition.
https://www.instagram.com/p/BmZiQVHl-wZ/
Whether you want to freshen up your colour, tackle tricky regrowth or undergo a complete transformation, a visit to Cameo Rose Boutique should be at the top of your to-do list. Their in-depth colour consultation makes it easier than ever to determine the best shade for you and your natural features, as well as how you can best care for your new colour from home. Their highly-trained team of colourists care about your hair and want to ensure you have as luxurious and relaxing an experience as possible.
With 14 locations across Brisbane, you're never that far away from one of Brisbane's best blondes colourists! Epic Hair Designs has built an empire upon providing impeccable services at affordable prices. When you select one of their blonde packages, their expert stylist will carefully analyse your hair and your ideal colour in order to personalise the best treatment for you. As proud Goldwell Colour Specialists, they'll use a variety of techniques (such as scalp bleaching and micro-foiling) in order to lighten your hair to the desired shade. Using a range of hair care products from Goldwell, Kerastase and Olaplex, you can relax knowing that your hair will be as healthy as possible.
As a colour-specialty salon, Fluid The Color Salon has a reputation for their exceptional work with colour. While masters of every colour on the spectrum (blue, red, pastel and everything in between!), they are also passionate about achieving stunning blonde tones. If you're thinking of making the change to blonde, as transformation specialists, they'll help you completely refresh your look.Using hair-nourishing products from Original & Mineral, your stylist will ensure that while you achieve the perfect shade of blonde for you, that you're not over-damaging your hair in the process. Their expert attention to detail results in multi-dimensional tresses that are truly stunning. They'll have you flipping your new locks all week long!
At Ginger & Spice, your precious locks are in the most skilled of hands! Using multiple shades of blonde as well as a variety of colouring techniques, the team at Ginger & Spice are committed to crafting a style that is multi-dimensional and vibrant. With over 25 years of experience, owner Melinda knows a thing or two about helping clients achieve the bombshell blonde hair of their dreams. They also offer an exclusive VIP program and payment plan as well as upfront pricing. Here, you're more than just a client – you're a guest!
As a fashion-forward salon, the stylists at Hair By The Collective will personally tailor their work to suit each client's unique style, inward beauty and flair. Mastering face-framing foils, baby-lights, balayage, and other seamless blonding methods, their salon services are always in high demand. As you relax in their stunning south-side salon and enjoy the ambience, your expert colourist will carefully work with your hair to custom-blend a flawless multi-dimensional blonde that is vibrant, healthy and lush.
For lush blonde locks that are flawlessly blended, make sure you chat to the team at Indigo Cut & Colour. The team are particularly passionate about hand-painting multi-dimensional shades for a seamless blend. Using Redken and vegan-friendly Pureology hair care and styling products, they nurture your hair in order to achieve gorgeous shades without excess damage. They are particularly passionate about transforming their clients, whether it be with a complete colour makeover or with colour correction work.
As masters of colour correction and all things blonde, this south side salon is a saviour for blonde babes and those thinking about lightening their locks. If your hair has seen better days or experienced some damage, some tender-love-and-care at Kelly Elle Salon will get you on the road to healing! In addition to fixing mistreated locks, they are also passionate about custom balayage and hand-painting, and use the Paul Mitchell Invisible Wear range to achieve effortlessly chic colours that leave the hair feeling just as lush and healthy.
Specialising in all shades of blonde, the blonde-specialists at KOR Hairdressing have almost magical abilities to completely transform your locks! Using a combination of balayage, micro-foiling and hand painting, your stylist will help you achieve the dreamy blonde locks you've always wanted. In fact, their range of four distinct blonde packages means that you can select the perfect combination of treatments for your hair with no nasty surprises when you reach the counter. Plus, with Afterpay on offer in the salon, achieving your dream hair has never been easier.
Located in the stunning suburb of Teneriffe, this inner-city salon boasts an epic team of hairstylists as well as an unbeatable ambience. Using the likes of Milkshake Hair, Original & Mineral and Olaplex, they can fully customise your colour to suit the vision you have in mind. Whether you're after a balayage refresh, a platinum transformation, or natural-looking biscuit blonde, an appointment at Lujo Hair & Makeup means you'll leave the salon looking and feeling incredible. While you're there, why not try out their in-salon makeup services for a complete makeover?
Offering more than just your standard 'cut and colour', the Luppinos Organic Hair team are considered Brisbane's best for so many reasons. Their talented team of stylists are able to create a stunning array of blonde styles, mastering everything from cinnamon balayage to pristine platinum blonde. To achieve flawless results without compromising the health and integrity of your locks, they use a carefully selected range of high-quality products – most notably, Original & Mineral, Olaplex and Oribe. Not only will you leave with bright, shiny tones, you'll also leave with hair that is lush, soft and radiant.
https://www.instagram.com/p/BmuZP5DAI7Z/
Mikki Auld Hairdressing is a high-end, boutique salon hidden away in the back streets of Woolloongabba and boy, do they know blondes! Mikki and her team incorporate naturally-enriching products and sustainable practices, meaning not only will you get the colour of your dreams but your hairs health and integrity won't be compromised during the process. Their signature freehand, foilage and babylighting techniques allow them to craft a completely tailored look that accentuates your natural features and personal style. Using the full range of Mr Smith and Olaplex products, they can ensure that your transition will be smoother than ever.
Meticulous cuts and stunning colours – these are the hallmarks of a Papas + Pace hairstyle. With two winners of Australian Colourist of the Year under one roof, as well as a team of multi-award-winning colour specialists, Papas + Pace has become recognised as one of Brisbane's leading hair colourists. As celebrated industry professionals, owners Dmitri Papas and Justin Pace have created one of Australia's most acclaimed salons. Plus, as Redken 5th Avenue International Hair Artists, they are always at the forefront of the latest techniques and trends in the industry! Specialising in flawless blondes and exceptional foiling work, they should be your first port of call whether you're undergoing a transformation or getting your locks refreshed.
Servicing the full spectrum of blondes, the stylists at Raw Colour & Style will take your tresses and completely revitalise them! Offering a range of nourishing hair treatments to revitalise your hair (including Aveda's new Shine Treatment and their Botanical Therapy Treatment), they'll not only help you achieve crisp, clean blondes – they will also help to revitalise your hair, protect it from damage, improve condition and enhance shine in as little as five minutes. With many of their stylists boasting years of styling experience as well as international experience working in high-end salons, you can trust that your stylist is abreast of the latest techniques and trends. In fact, they regularly invest in ongoing training to stay ahead of the newest trends. Operating out of their luxurious Newstead salon, they are passionate about going above and beyond for their clients (two words: complimentary massage!).
It should come as no surprise that one of Brisbane's most stunning salons is also home to some of the most talented colourists in town. Passionate about creating custom blended blondes, your stylist will walk you through your transformation, ensuring you receive flawless results that meet your expectations. Plus, they'll also make sure you know how to best maintain your new locks for optimal results. Using the high performing and extremely gentle colour range of COLOUR.ME by KEVIN MURPHY which is PPD free, ammonia free, and has naturally derived ingredients such as aloe Vera, honey, Shea butter and pomegranate, your hair will be rejuvenated with incredible shine without having to further compromise the environment. This backed up by an amazing product line up of Kevin Murphy, Oribe, Eleven Australia, and Anti collective, not only will you achieve gorgeous results, you can rest easy knowing that the health and integrity of your crowning glory have also been maintained.
As a boutique salon, the specialty at Samantha Jones Hair Co is personalised service and custom colouring. With a particular talent for stunning and seamless balayage, they are passionate about taking your dream blonde shade and making it a reality. At SjHCo, they also understand that guests want to know what service they are getting from the beginning. This is why they have carefully curated a range of all-inclusive packages for you to choose from. Whether you want The Metropolitan package (single colour service) or The Empire package (a full head of foils – the works!), they'll tailor the service to suit you and you can relax knowing exactly how much it will cost. We'll flip our hair to that!
Offering a range of colouring techniques – everything from precision foiling to balayage – owner and talented colourist Kristie Kesic has surrounded herself with passionate and skilled stylists. This upmarket boutique salon specialises in the full range of blonde, mastering everything from platinum shades to warm honey tones, and are passionate about precise attention to detail. They understand that you are trusting them with your tresses, and as such want to go above and beyond for each of their clients. Plus, due to their work, they regularly make it to the finals in some of the most prestigious industry awards each year!
No matter what your dream locks look like, you'll discover them at this local-favourite. The team at the Ruby Room are known for their mastery of colour, particularly bold and vibrant looks. Thanks to their strong relationship with the luxury brand Wella, they are able to achieve glossy and rich colours while still maintaining the integrity of your hair. Their stylists also like to ensure that the final result is going to suit you and your lifestyle and equip you with all the tricks you need to keep your colour vibrant and rich for as long as possible. For an ultra-luxe experience that revitalises your look, be sure to speak to the team today.
https://www.instagram.com/p/Bkvy-CflNWO/
Tigerlamb | Multiple Locations
For runway-ready locks that are lush and healthy, you can't go wrong with the dynamic Tigerlamb team. The tigers are famous for creating beautiful, clean, modern blondes that shine like the sun and feel soft like silk. With four locations around central Brisbane, the stunning salons are home to multi-award winning-artists who are both warm and friendly, as well as exceptionally talented at colouring. At Tigerlamb, they understand that it can be tricky to fit your much-needed "me" time into your busy schedule – this is why they are excited to offer late appointments every evening so that you never have to miss out!
As the go-to salon for the fashion-conscious individuals of Brisbane, owner Amy Gaudie (who has styled runways at Mercedes-Benz Fashion Week, Paris Fashion Week and New York Fashion Week!) has created a luxurious haven for those looking to have their hair taken care of. With multiple awards and accolades to their name, Urban Chic is home to a team of stylists that are all at the forefront of the industry and pride themselves on their on-trend, fashion-forward styling. With a keen eye for trends and how these apply to each individual client, they make it easier than ever to ensure you're getting the correct shade of blonde for you and your style.
https://www.instagram.com/p/BmmsD53l00k/
For the lushest locks of your life, you need to see what's behind the pink door on Arthur Street. As one of the newer additions to Brisbane's hairstyling scene, the team at White Gold Boutique are already making a name for themselves as the talented colourists behind some of Brisbane's most beautiful blonde styles! Following an in-depth consultation and hair analysis, your stylist will use a variety of techniques to achieve your dream look. With a complimentary WiFi, Netflix, and caramel popcorn upon arrival, as well as Champagne available if you get thirsty, you'll struggle to find a more welcoming and relaxing salon.
Liked this? You'll love these!
1. We Spoke With A Hair Colouring Expert To Learn How To Repair Damaged Hair
2. We've Discovered Brisbane's Best Hair Colourists 
3. We Chat To The Director of Edwards & Co, Jaye Edwards
Image: @elle_ferguson