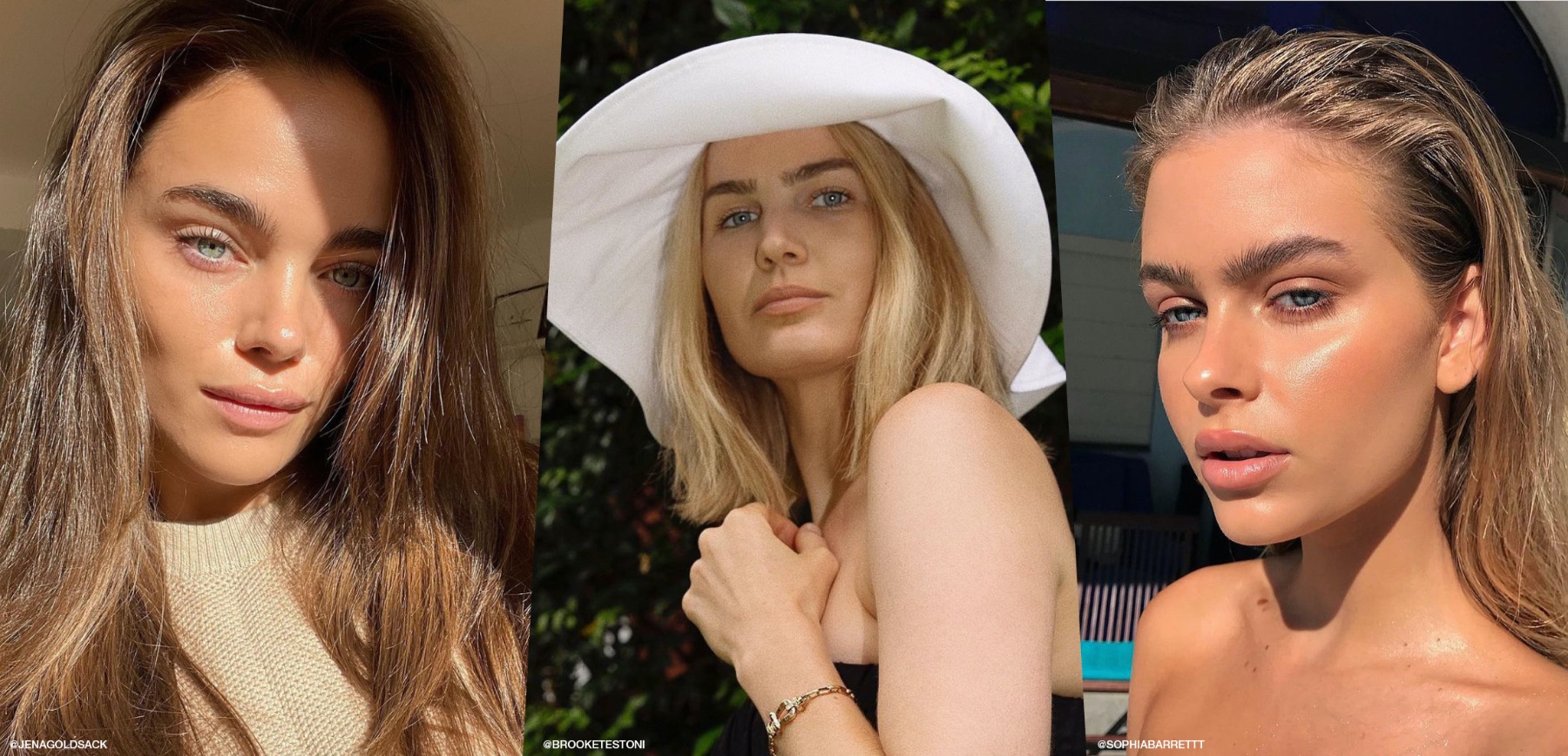 Save Face With Brisbane's Best Cosmetic Tattoo Artists
Wakeup and go!
---
Impeccable brows that require absolutely no maintenance or upkeep for months? Now you're talking! 
We've rounded up Brisbane's best cosmetic tattoo clinics and artists for permanent makeup that won't disappear when you shower, swim, or ball your eyes out while watching Queer Eye.
If your brows are looking like sisters and not twins, patchy, or lacklustre, cosmetic tattooing is a great way to give them life again. The best part of cosmetic tattooing is that when it's done well, it's often hard to tell if you've had any tattooing or microblading done at all (unless under very close inspection) – just a beautifully natural look day after day.
For brows, Brisbane's best cosmetic tattoo artists use feathering, blading, and brush strokes to give an effortless "I woke up like this" look, while subtle lip blushing gives you a complete solution to minimising your makeup entirely with border definition and pigmentation.
Put down the brow pencil, and book into Brisbane's best cosmetic tattooists.
Did we miss someone from the list? Let us know here!
Revamp Cosmetic Tattoo and Aesthetics
Coorparoo
Step into Revamp Cosmetic Tattoo and Aesthetics' welcoming private studio, and you'll be whisked away to a world of ultimate comfort and care while your cosmetic visions are brought to life. Priding themselves on providing a highly personalised client experience, Revamp understands the importance of individualised treatments that are tailored and customised to suit each client's unique complexion and aesthetic goals. With eight different cosmetic tattooing certifications and qualifications in skin aesthetics, you're in safe hands with owner, Stacey, who puts her extensive international training into action with her signature lip blush and ombré brow procedures. Earning her a spot as a finalist in last year's Australian Beauty and Cosmetic Tattoo Awards, her babydoll lip blush service is a sure-fire way to achieve the prettiest of pouts, while her stardust brow tattoo treatment promises sweat-proof, water-proof brows, minus the makeup. From soft, natural looks to bold and defined styles, Revamp is guaranteed to transform your aesthetic dreams to reality.
Injex Clinics
Aspley, Capalaba
The eyebrows of your dreams are exactly what you'll get when you visit Injex Clinics. The cosmetic tattooists here have done the work to ensure they can craft your vision to perfection, trained in multiple techniques from feather touch brows to ombré, and a combination of microblading and shading. Factoring in your complexion, face shape, and personal preference, your therapist will take each stroke with an attention to detail like no other. Offering complimentary touch-ups four to six weeks after your treatment, plus discounted touch-ups for 18 months after, book now and get ready to wake up every morning looking your best.
Bespoke Brows
Corinda
Born out of a passion for inspiring confidence, this west Brisbane beauty hub is all about bestowing beautiful, life-changing brows and cosmetic enhancements that empower women to love the skin they're in! In her boutique, hamptons-style studio, owner Jem offers eyebrow tattooing in the form of ombré, combination, and feather brows, as well as performing lash line tattooing and lip tattooing services, all of which are vegan-friendly and cruelty free. As the name suggests, Jem takes pride in tailoring every aesthetic procedure to each client's unique needs and desires, resulting in outcomes that perfectly compliment their individual complexion. Her services are ideal for anyone wanting soft, effortlessly natural results and a seamless, personalised client experience.
https://www.instagram.com/reel/CaT7HnVl81Q/?utm_medium=copy_link
Mediluxe Cosmetic Clinics
Cannon Hill, Newstead
If you thought your dream brows or lips were impossible to achieve, then think again, because the miracle workers at Mediluxe can make it happen! Specialising in challenging, asymmetrical or difficult tattoo treatments, the principal artists here are renowned as the correctional brow and dark lip neutralisation experts. Continuously raising the standard for themselves and the industry, each cosmetic tattoo is mapped, measured, and designed after a full consultation to understand your needs and enhance your features, leading to a customised treatment plan that works wonders. While you're there, why not treat yourself to their brow and lash services, teeth whitening, or skin tightening treatments? Trust us, you'll be thanking yourself for a long time to come once you do!
Simply Laser
Brisbane City
Whether you're after a subtle enhancement of your natural features or a bolder, more defined look, this experienced team of professionals, led by award winning cosmetic tattoo artist, Leona Callagher, can customise their procedure to meet your needs. Implanting pigment into the skin to mimic hairstrokes through microblading, the Simply Laser team can create the effect of fuller, bushier, symmetrical brows that require little to no maintenance. Worked and trained all over the world, this team are specialists in creating arches that look natural and enhance your natural beauty.
Cosmetic Tattoo By Jessika
Paddington
Take your lips to the next level and flaunt a perfect pout 24/7 with the help of cosmetic tattooing. A big trend for the treatment, CT by Jessika and her Made.By Jessika team can give you a makeover in 2022 thanks to their skilled cosmetic tattoo artistry for both the lips and brows. From soft lip blush to deeper shades, they love creating kissable lips and arches. Using concise techniques, including mapping and custom design, you'll find your perfect shade with this passionate team. Here, they know the importance of getting it right is crucial in ensuring your features are enhanced, and thanks to their warm and welcoming space, together, you'll find just what you're looking for. Book in now, and love the new you!
https://www.instagram.com/reel/CRw5SJoH-yp/?utm_medium=copy_link
THink Aesthetics
The Gap
Wakeup and go thanks to the brilliant artistry work performed at THink Aesthetics. Specialising in cosmetic tattooing of the brows, lips, eyeliner, and scalp micropigmentation, your treatment here will be personalised to suit you – your features, lifestyle, and desired outcome. Thanks to the creative vision of this team, you'll be amazed by the subtle yet effective natural-looking results. Still unsure whether this is the right treatment for you? Book a free consultation and chat to one of their specialists about your options in this warm and welcoming space.
Niki P Brows
Gumdale
Specialising in ombré and combination brow tattooing, Niki P Brows is the place to transform your arches into a work of art. Highly trained in using the digital machine to implant the pigment, Niki's chosen technique offers brows suitable for all skin types, without damaging the skin's integrity. The process results in a longer retention of pigment and a minimised chance of scarring. Emulating hair strokes and/or subtle or defined shading, the healed result is natural, effortless, and effective. For those looking to start their cosmetic tattoo journey here, Niki offers thorough consultations to ensure you fully understand the process, including aftercare, healing expectations, and the future of your tattoo, to give full transparency of the treatment and to ensure new clients are 100% comfortable with their decision to proceed. Niki will work with you to achieve your desired outcome, whether that's a strong, defined brow, or a softer, more subtle set. Together, you'll design and create the brows of your dreams. Niki also specialises in lip blush tattooing, eyeliner enhancement tattoos, and saline removal for those who want the works!

Preah Love
Bulimba
Fall in love with your features thanks to this skilled team, who can transform, enhance, and work wonders. Offering customised cosmetic tattooing, they specialise in naturally fluffy brows, combination brows, smudge-proof lip blush, natural sun-kissed freckles, and scalp micropigmentation for those who experience hair loss or thinning. With a drive to help you feel your best self with bespoke treatments to elevate your individual beauty, you'll love the results created in this stunning Oxford Street space.
Glowtique Studio
Hamilton
This team are specialists in their craft, ensuring that every client who enters leaves feeling refreshed and refined. Their cosmetic tattoo services include brow enhancement and correction, along with beautiful lip blush treatments to give a fuller, healthier and younger appearance, leaving you with a striking look best suited to your unique features. Additionally, they offer semi-permanent makeup solutions (eyeliner and lip treatments), scalp micropigmentation hair loss solutions, and dermal micro-needling. While some technicians may practice a specific look, the Glowtique team understand that one size does not fit all. Instead, these aesthetic specialists are trained in assessing facial structure, skin tone, and more, to ensure your new look not only enhances your features, but flatters your overall appearance. Their safe, gentle, and detailed application is renowned in the business. Expect only the best from this talented team.
Lux Angels Beauty
Runcorn
You'll always wake up on the right side of the bed when the master tattooists at Lux Angels Beauty work their magic on you! Whether you want permanently flawless eyebrows, lips, eyelines, hairline or scalp micro tattooing,  the expert team will treat you to 24/7 perfection. In fact, across owner Angie Park's 12 years of experience as a PMU specialist and SMP specialist, she's won the International Body Art Contest in cosmetic tattooing and now is a judge. As the pros in microblading, microshading, and combination brows as well as scalp micro pigmentation, the Lux Angel team will factor in your face shape, skin type, facial muscle movement, and personal preference to decide which shape, technique, and colour is best for you so you can look and feel stunning every day of the week.
The Brow Cosmetic Tattoo
Browns Plains
No matter what cosmetic tattoo treatment you're here for, expect extraordinary service at an affordable price. Here, you'll be treated to a bespoke design that complements your features, whether it's cosmetic tattoo lips, eyeliner, or eyebrows. With expert technicians on the floor, this team listen to your wants and desires, and will tailor a look just for you. With regular touch-up appointment alerts sent right on time, you'll maintain your new look with ease. They even offer Afterpay, so you have all the more reason to indulge and flaunt your best self!