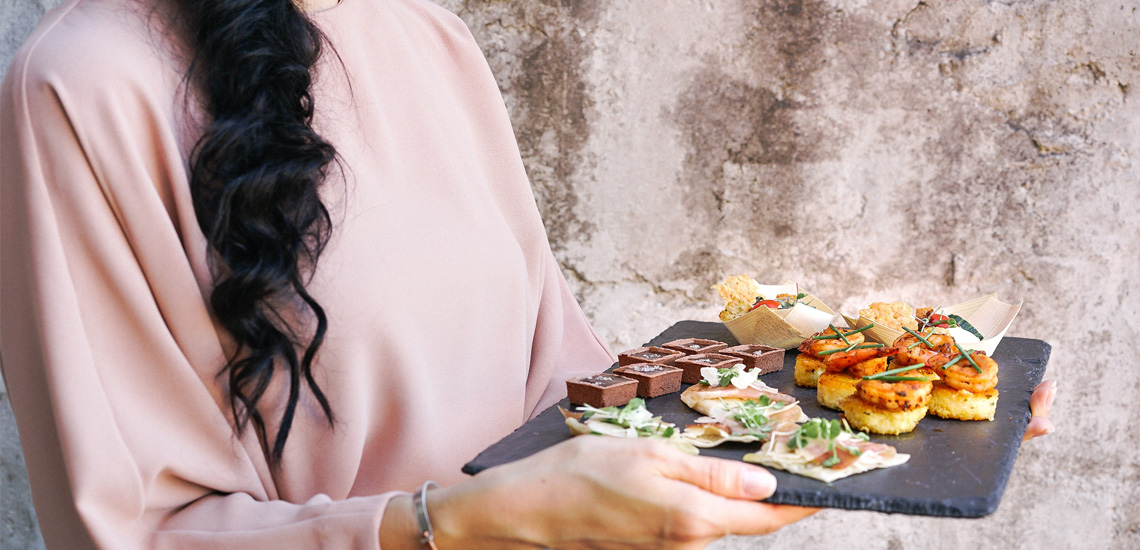 Take Your Xmas Party To The Next Level With Brisbane's Best Caterers!
Take the biggest headache out of event planning.
---
With the festive season just around the corner, many of us are frantically trying to get ahead of our Christmas party prep. If you need a little help in taking some of the stress out of planning your Christmas function, here's our number one tip: utilise a caterer! From tailoring your menu to flawless execution on the day, caterers are able to help make your event run seamlessly and stress-free – whether it's an intimate cocktail party or a large scale dinner. We've gathered our selection of Brisbane's best caterers to help you plan an event that is as easy to manage as possible, while still being a party that your guests will remember. Bon appétit!
Whatever event you're planning – a long luncheon, office Christmas party, or even an extravagant soiree – Cuisine on Cue offer a wide range of casual and formal catering packages for the upcoming festive season. Their extensive menus (of which examples can be viewed online) will leave your guests' mouths watering, while they enjoy fresh, chef prepared meals tailored to your needs. How about rustic shared plates such as braised lamb shoulder with tahini chickpeas and coriander yoghurt, or seasonal canapés including the Hiramasa king fish ceviche with burnt orange and cucumber jelly? In addition to this, Cuisine on Cue also works alongside some of Brisbane's most sought-after function venues including the historic Old Museum and QUT's Room Three Sixty, both of which are available to hire for exclusive Christmas functions.
P: 07 3210 2281
Headed by iconic-Australian celebrity chef, Alastair McLeod, Al'FreshCo brings a veritable wealth of experience to the table. Having worked in Michelin listed restaurants across the world, Alastair now dedicates his time to providing fresh, tailored catering to his clients' events. With a focus on locally sourced produce, Al'FreshCo is able to serve everything from intimate dinners through to large sit-down events and is capable of providing everything from food and beverage staff through to hire equipment. With all the stress taken off your shoulders, this leaves you with more time to enjoy delicious bites such as Kooringal rock oysters with salt water vinaigrette, golden spiced Pittsworth quail, and seaweed cured north Queensland cobia with cucumber chutney. Delicious!
P: 0413 756 144
With a wide range of full-service and bespoke offerings, Australian Catering Services has 13-years of experience creating spectacular events. With delicious and stylish solutions to serve every event, they'll make it certain your event is 10/10! They are able to host everything from large-scale corporate events to intimate celebrations, hosted at your choice of venue or selected from venues they know like the back of their hand. ACS's extensive range of menus, flexibility and professional team makes them a favourite amongst party-throwers and corporate professionals across southeast Queensland. If you've ever wanted to host a formal 3-course meal or cocktail evening (without any of the cleanup!) they can take care of it all. With Christmas just around the corner (and all the functions and parties that go along with it), make sure you hit them up for all your dining needs – from a relaxed gourmet BBQ or food stations from across the globe, right through to their Queenslander beverage package showcasing all our local favourites. ACS has the solution for your celebrations!
P: 07 3857 6631
Located in the beautiful Stones Corner precinct, Lady Marmalade has been delighting diners with their delicious fare since 2010. To make things even better? They now offer catering! If you're hosting a sit-down dinner or a cocktail event, their inspired menu of savouries, serving platters and salads will more than satisfy your guests. Enjoy wild mushroom and sage tart, venison scotch egg, pork belly with bang bang slaw, and snapper fish tacos. Are you drooling yet? We are! Available for breakfast, lunch and dinner, they'll be able to assist you with whatever event you need.
P: 07 3324 2480
Since 2012, My Alter Ego has been delighting our tastebuds with their mouthwatering and awe-inspiring grazing tables. Grazing tables are a popular option for casual events as it allows your guests to help themselves and feast to their delight. The perfect option for casual dining, these visual-delights include a beautifully-styled array of locally sourced produce, such as fresh seasonal fruits, charcuterie, cheeses, and other nibbles. Whether it's for a wedding of 80+ guests, a small gathering, or a corporate event, My Alter Ego is able to cater for lunches, morning teas, full-day conferences, and corporate events, with wine, canapé and corporate packages also available. To really amp up the wow-factor of your function, the tables can also be tailored to suit your theme with their expansive range of tableware, furnishings and floral decorations also available for hire! As one of the most popular corporate catering services in Brisbane, they can help you make your event pop.
P: 0416 511 838
Offering a mouth-watering range of traditional and authentic Mediterranean dishes, Spanish Paella can feed your guests with delicious, fresh, hand-made Spanish food! With a team of chefs all originally hailing from Spain and using only the freshest local produce available, Spanish Paella is able to travel to and cater for any event up to 200 people. All paellas on the menu are gluten-free and dairy-free, and with a range of vegetarian and vegan options available, they are able to cater to everyone, regardless of your guest's dietary requirements. They are wildly popular throughout south-east Queensland, so make sure you contact them asap!
P: 0432 122 071
One of the most popular food trucks operating throughout south-east Queensland, Char Baby produces delicious gourmet catering for events all over town. Having worked as a private chef in Switzerland, Turkey and Greece, owner Nicole Noble's palate is inspired by her travels. Operating out of her shiny blue food truck, Nicole and Char Baby regularly showcase their fare at buffets, street stalls, hawker stations, and various functions – no matter how big or how small. Their incredibly diverse and extensive menu is regularly changing and can be personalised depending on the tastes and desires of the client. For more casual events, Char Baby will leave your guests satisfied and raving about the event!
P: 0458 765 404
Located in Milton, Arrivederci Catering has been one of Brisbane's favourite function caterers for over 10 years! With a delicious menu of traditional Italian fare – including pizza, pasta, gelati and more – their expert chefs have a genuine passion for creating authentic Italian food from the freshest ingredients. From more intimate dinners to large-scale functions, they will ensure that your guests enjoy everything they eat. And did we mention their famous 1 metre long pizzas? The perfect serve for groups!
P: (07) 3369 8500
Liked this? You'll love these!
1. Brisbane's Best Beer Gardens For Sunshine Sippin'
2. Brisbane's Best Cheese Dishes
3. Where To The Best Buy Organic Food In Brisbane