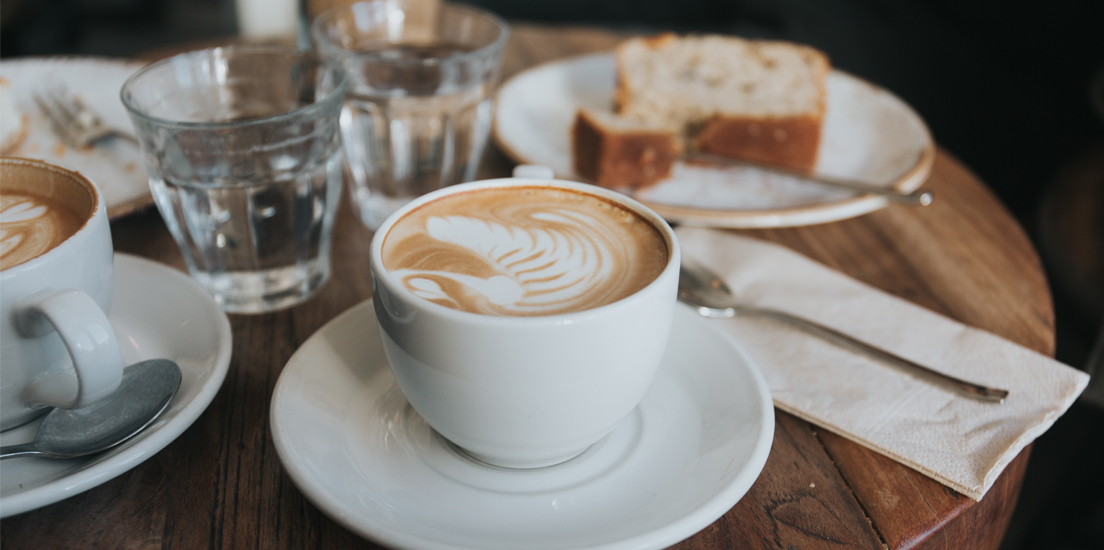 Brisbane's Best Cafés Open After 3pm
Because our caffeine addiction doesn't stop mid-afternoon.
---
We've all got one – a favourite coffee shop that we could probably find with our eyes closed. But what about the days when you're craving some cafe cuisine in the afternoon? We've searched high and low and found the best Brisbane cafés open after 3pm.
After a big night out, there is nothing more comforting than nabbing a spot at Kettle & Tin. They serve breakfast until 3pm, with sweeping views across the leafy green slopes of Paddington. The drinks list is impressive: aside from all the usual suspects, they have iced offerings on tap – think nitro iced chai latte, espresso martinis with Gosling's Rums, and locally-made Kombucha. The best part? They're open until 11pm six days a week, and until 4pm on Mondays.
 Lock'n'Load Bistro | West End
Boasting what is arguably the best courtyard in West End, Lock'n'Load Bistro can be found in the heart of the Boundary Street entertainment precinct. The chefs are on standby to whip up breakfast until 3pm, and there is live music to soothe any pre-bacon jitters. Brave souls can tackle the three-litre, pour-it-yourself beer tower, while more mellow patrons can enjoy the extensive wine list. They might be closed on Mondays but they make up for it by staying open until midnight the rest of the week (and 1am on Friday and Saturday!).
Iconic and unpretentious, the guys behind Jamie's Espresso bar have been serving up quality coffee for more than 13 years. Drop by for deluxe sandwiches and spanakopita until 6pm, or stay later on Friday night (until 10pm) to enjoy the compact booze list.
The entrance may be unobtrusive, but just a few steps inside The Three Monkeys reveals a bungalow-style retreat. This joint is famed for chai lattes served in bowls (both hands required!), and the Moroccan rugs, hanging plants and fringed lampshades will have you instantly at ease. Weekend breakfast is served until noon, while their famous cakes cabinet is available around the clock. They close at 11pm all week, and until 11.30pm on Fridays and Saturdays.
Housed inside a restored worker's cottage, Sassafras Canteen has been a staple on the Paddington café scene for years, nad it's open until 9pm from Thursday to Sunday. Sneak on through to the back garden, which has plenty of bench room for laptops and books. Heads up, though – this courtyard is a hub for cute pups, so be prepared for some doggie distractions!
This industrial-style inner-city retreat is the perfect spot to escape from the office. Breakfast is served until 3pm each day, and there is a tidy little wine list to take the edge off any weekday woes until 8.30pm.
Perched at the edge of Kangaroo Point, with breathtaking views across the river to the city skyline, the Cliffs Café is a firm Brisbane favourite and it's open until 5pm every day. Sit back and enjoy the breakfast menu (served until 2.30pm) while local athletes train nearby at the famed KP stairs.
With the Good Food Guide Café of the Year award for 2017, Pearl Café is the perfect escape from the bustling crowds at The Gabba. Flanked by a brightly-striped awning, this two-storey European-style eatery is not showing any signs of slowing down in its 10th year, with the venue open until 10pm Wednesday to Saturday. On your way out, stock up on take-home sweets and handmade pantry essentials from Pearl Providore.
Tucked just behind the Queen Street Mall, Brew Café and Wine Bar is perfect for an early breakfast with that friend who is ALWAYS working. Open until 10pm on Tuesday and Wednesday, 11pm on Thursday and midnight on Friday and Saturday, this is a great spot for a post-work debrief.
Between the three bars and a downstairs disco, Alfred & Constance has plenty to keep mischief-makers occupied at night… but what about the morning after? Vanguard Restaurant is on hand to serve breakfast, burgers, steaks and share plates, PLUS there is a late-night dessert menu available too. And it's open until 10.30pm every night.
Death Before Decaf is open 24 hours a day, seven days a week. Students, night owls and workaholics alike love dropping by to have tattooed baristas crank out some of the finest espresso in New Farm.
Seven South | Yeronga
This place is a brunch-lover's delight with a killer menu, ample street parking, plenty of room for kids and pups, and a closing time of 10pm from Thursday to Saturday. Any avocado addicts need to try the Seven South iteration. Served on house-made pumpkin bread, with goat's fetta and spiced pepitas, it's one of the best we've tried recently.
This sweet little breakfast nook has recently extended its outdoor area. Think leafy plants, leather couches, and share tables dotted with fresh flowers. The high ceilings and exposed beams are what Pinterest dreams are made of, and it's open until 5pm on weekdays.
Reverend's Coffee is a minimalist's dream: a simple space, with exposed brickwork and a well-loved record player in the corner. The concise food menu is the perfect backdrop to allow the self-confessed coffee geeks to shine. Keep it simple with a classic espresso, or branch out to AeroPress or cold brew varieties until 11pm from Thursday to Sunday.
Liked this? You'll love these!
1. The Brisbane Breakfast Spots That Turn into Bars at Night
2. Meet the Brisbane Chefs Changing the Way We Eat
3. Fork Talk: Issue 21