Brisbane's Best Brunch Spots
For when you're hungry for not quite breakfast and not quite lunch.
---
Brunch at Morning After. Image: Florian Grohn
Let us tell you about a place where day-drinking in the early hours is not only acceptable, but encouraged. Where women can have lengthy, layered debates about relationships, the bedroom and whether he's just not that into them over eggs, bagels and coffee. And of course where a glorious marriage of flavours occurs between two of our favourite meals; breakfast and lunch.
What is this place, you ask? No, it's not Nirvana. It's not even Mars. It's brunch.
Okay, maybe we're getting a bit crazy, but how can you blame us when we can wake up from a hangover at midday, slouch on over to a dreamy café and order pancakes AND eggs Benny AND burgers AND coffees AND a little hair of the dog? And whatever the rest of the party wants, of course.
But we're not greedy. We believe everyone should be able to bask in the glory of the not-quite-breakfast and not-quite-lunch sensation, which is why we've rounded up the best of the best Brisbane brunches.
Shouk Cafe
With beautiful Paddington views, a light and relaxing atmosphere and a delicious all-day menu inspired by the markets of the Middle East, Shouk Cafe is a brunch-tastic breath of fresh air. Each dish is an explosion of Israeli, Tunisian, Moroccan and Australian flavours, improved only by the top-notch coffee and friendly staff.
Our palatable pick? The Latke Stack, featuring poached egg and halloumi goodness paired with the Limonana beverage of blended ice, mint and lemon. This combination is the stuff of brunch dreams.
14 Collingwood Street, Paddington
shoukcafe.com.au
P: 3172 1655
Hops Scotch and Beans
Residing only a hop, skip and a jump away from the CBD is Hops Scotch and Beans, one of Brisbane's favourite all-day brunch and coffee joints. Whether you're in the mood to sit inside and hide your hungover face from the world or recline on the outdoor benches to people-watch in the trendy Barracks area, this 7am to 2pm brunch is sure to give you life.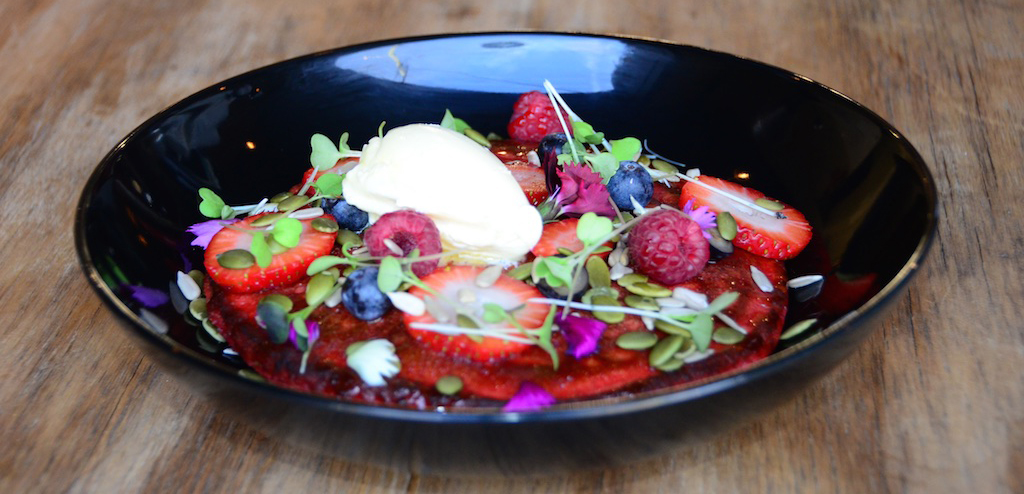 Why hello, salmon bagel with chili scrambled eggs and halloumi! How do you do, bubble and squeak with poached eggs? How about we run away together, red velvet hotcakes?
101 Petrie Terrace, Brisbane
hopsscotchandbeans.com.au
P: 3172 2416
Pablo
Serving until 2.30pm, Pablo offers a summer brunch menu as fresh and sunny as its New Farm location. Serving up a bevy of unique creations such as House Gin-Cured Sea Trout and Smashed Peas (although not just any smashed peas, with zucchini, feta, mint salad and citrus baked sticky speck bacon), Pablo is a cosy nook perfect for private brunching pow-wows while observing the happenings of Brunswick Street.
893 Brunswick Street, Brisbane
pablonewfarm.com
P: 3254 4900
Goodness Gracious Café
Goodness gracious, this café's brunch game is strong! Not only are you blessed with a regularly changing all-day breakfast menu and a range of top-tier brunch items, you can also enjoy said items while surrounded by plants and cacti in the café's outdoor area. So basically anything you eat is healthy because nature.
Which is fantastic because we're desperate to splurge on everything on the menu, from your standard bacon and eggs and avocado on toast to salmon pastrami, pulled pork jaffle, and tapioca and rice pudding!
250 Oxley Road, Graceville
goodnessgraciouscafe.com.au
P: 3162 9092
Morning After
Indulgent? Check. Delicious? Check. Healthy and dietician-approved? Check. Too good to be true? Possibly. Located in West End and run by mother-son duo Soula and Yianni Passaris, trendy café Morning After goes by the philosophy "Enjoy the night before, indulge the morning after." We concur.
Featuring rich flavours from locally-sourced ingredients, Morning After is the perfect balance of pig-out and pure, with an array of delicious meals including fresh sand crab omelette, MaMuffin and breakfast carbonara (YAAAAAAAS).
Corner Vulture Street and Cambridge Street, West End
morningafter.com.au
P: 3844 0500
Anouk Café
If you're looking for a brunch that's a little bit fancy with the BYO a-flowing and your best expensive scarf on display, Anouk is the place for you, daaahling. Offering an all-day breakfast menu seven days a week smack-bang in the middle of Paddington, Anouk's historical shop setting adds a bit of upscale rustic charm to your eggs Benny. Our palatable pick: kejriwal with smashed avocado, chili jam, labnah cheese, dukkah and balsamic leaves. Mm-mm-mmm.
212 Given Terrace, Paddington
anoukcafe.com
P: 3367 8863
Scout Café
Holy bagels, we like this place! With a six-week rotating menu that attracts lines every weekend (why does everyone else have to like the stuff we like?), Scout Café is famous for its friendly atmosphere, bang-on coffee and delectable brunch items including strawberry and cream French toast, breakfast bagels to die for and breakfast chowder!
190 Petrie Terrace, Brisbane
facebook.com/Scout
P: 3367 2171
Bare Bones Society
Despite the name, Bare Bones Society provides a brunch menu that will leave you with anything but bare bones. Offering a relaxed and friendly atmosphere in a modern setting, the all-day menu veers away from typical brunch dishes and we welcome it! Get in our bellies, Philly cheese steak burgers, club sandwiches, and corn and chive fritters topped with bacon, guac and halloumi!!
Shop 22, Jindalee Homemaker Centre, Goggs Road, Jindalee
facebook.com/BareBonesSociety
P: 3715 5571
Nantucket Charcoal Kitchen & Bar
We once knew a man from Nantucket … and he really loved the brunch options! Inspired by Cape Cod, Nantucket Charcoal Kitchen and Bar injects a bit of contemporary American cuisine into your brunch hour(s), including signature buttermilk pancakes topped with fresh berries, as well as WAFFLES!
Indooroopilly Shopping Centre, MM5 Station Road, Indooroopilly
nantucket.com.au
P: 3878 9697
Lady Marmalade
Not that kind of Lady Marmalade, although there's no harm in gathering all your soul sisters for this delightful brunch joint. Offering an all-day menu fit for a savoury brekky-lover's dreams, these My Kitchen Rules stars turned café owners have created a cosy, casual and, most importantly, scrumptious corner café, fit with blankets and toy dinosaur table numbers! Best brunch option? It's a tie between the savoury mince and the open rib fillet sandwich.
269 Logan Road, Greenslopes
ladymarmaladecafe.com
P: 3324 2480
When you brunch so hard you brunch when it's not even brunch:
Atalanta Bar and Greek
Okay, so technically this place doesn't actually serve brunch, but we've heard they offer a mean selection of Bloody Marys! Yes, apparently there is more than one type of Bloody Mary. So when you're feeling the brunch vibes and it's well past 2.30pm, head to Atalanta for some hair of the dog and grab some Greek cuisine while you're at it! Open from January 2016.
39 Hercules Street, Hamilton
atalanta.com.au
P: 0413 778 435
Like this? You'll love these!
Brisbane's Best Instagram-Worthy Dishes
Best Savoury Breakfast Dishes In Brisbane
Where To Get The Best Avocado On Toast In Brisbane