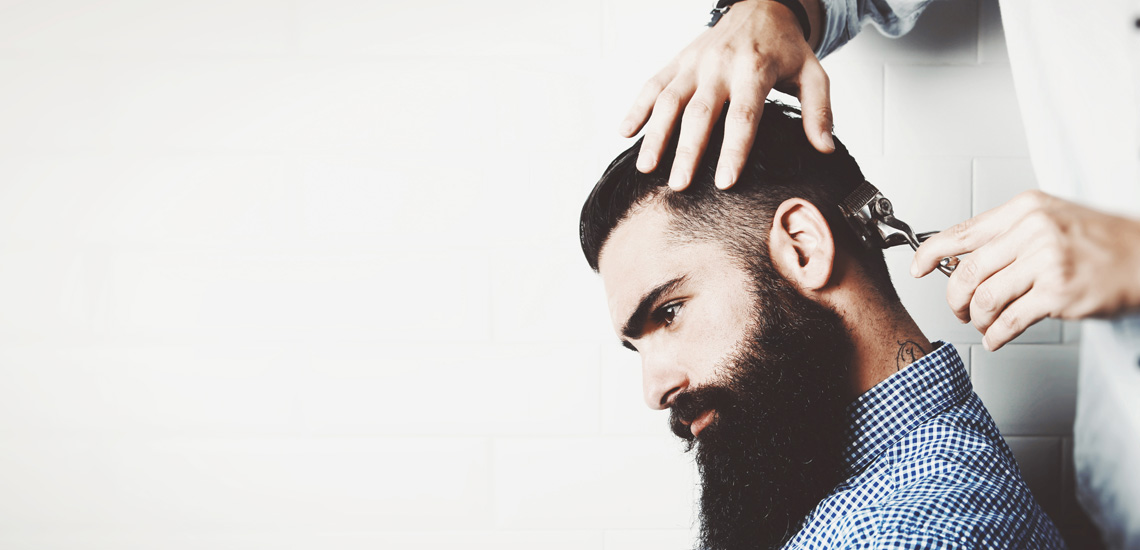 Brisbane's Best Barbers: 2015 Edit
Show your guy there's nothing wrong with a bit of manly primping with our top picks for Brisbane's best barbers.
---
CHECK OUT OUR UPDATED 2018 BRISBANE'S BEST BARBERS ARTICLE HERE
Have you ever taken a long look at your boyfriend, dad, friend or brother's age-old short back and sides and gently asked if they've considered trying out a new look? Only to be met with the response, "No. Me man. Me no like change. Me like FIRE."
OK so they're not all that bad, but the point is it takes as much courage, confidence and confrontation of trust issues for a guy to broaden his hair horizons as it does for us ladies, so it's important to ease him into getting the chop (the HAIR chop, not that other chop). Help him realise the world is his oyster when it comes to hairstyles. And it doesn't hurt if the barber provides ice-cold beer to tempt him there, either.
It's time to throw out the Grade 3 conventional cut and go for a bold buzz cut, a layered Thor look, a pompadour, long on top or, oh I don't know, some Don Draper debonair? Or, you know, whatever style he's into.
(Don Draper. Do it.)
And don't even get us started on the beard and tash. Maybe he's exploring his manliness, maybe he's doing it for Movember, maybe he's decided to become a Ned Kelly impersonator, but let's keep that stubble sophisticated!
So without further ado, we've picked out the most happening of hairdressers, the Sweeneyest of Todds (minus the murder) to tip off your guy to the best barbers in Brisbane.
Bare Bones Barbershop
"Bare bones" is right. These guys are no muss, no fuss, getting their customers in and out of the barber's chair in under 15 minutes without skimping on skill and friendly service. With zero pretentious attitude, an edgy punk/fifties décor and the same high standard of attention to every customer, your guy's all set for a quick, quality cut.
Shop 2, Wynnum Road, Morningside
P 3899 6995
www.barebonesbarbershop.com.au
Pureman Style & Grooming
If you've got a GQ-reading fancyman on your hands, Pureman is the way to go, combining traditional barbershop with luxury lifestyle and grooming services. It's not the cheapest of chops, but with an extensive service list including corporate, buzz and style cuts, an executive wet shave, colour services and moustache trims (awww!), as well as a variety of high-quality products and razors on offer, it's well worth the cash. Remember to book in advance for these high-fliers.
121 Albert Street, Brisbane City
P 3012 7990
www.pureman.com.au
Cut-Throats and Powder Puffs
For all men rocking the man-bear beard, stroll on over to the hilariously-named Cut-Throats and Powder Puffs, Brisbane's best barber specialising in indie, rockabilly, punk and alternative men's styles. This place makes barbery an adventure, with beer, tunes, and crazy décor for the guys to admire while their beards are tamed to look cool but kempt, rather than bushranger-chic.
239 Boundary Street, West End
P 3844 8687
www.facebook.com/Cutthroats-and-Powderpuffs
The Moustachery
"Ahohoho, what an exquisite moustache you have!" everyone will say as your man leaves The Moustachery, stroking his whiskers with glee. However, moustaches aren't mandatory in this wonderland, with beard artistry, precise cuts, excellent customer service and beer to boot! We give these guys bonus points for the colourful décor and their charitable barbery for the homeless.
5B/204 Oxford Street, Bulimba | 2/760 Brunswick Street, New Farm
P 3194 2653 for Bulimba | P 3195 6808 for New Farm
www.themoustacherybarbering.com.au
The Emporium Barber
Precise cuts, check. Cut-throat shave, check. Beers and espresso bar, check check! These guys like mixing traditional services with the modern male lifestyle, offering cut-throat shaves with hot towels to make for an extra close shave and a luxurious experience. Plus, they offer a number of high-end grooming products for you to keep your bristles bang-on.
The Emporium, 100 Ann Street, Fortitude Valley | Post Office Square, Adelaide Street, Brisbane City
P 3216 0566 for Fortitude Valley | P 3221 8156 for Post Office Square
www.theemporiumbarber.com.au
Esquire Male Grooming
Your man doesn't need an Aston Martin, babes, or a shaken, not stirred martini to get the Bond look; just go to Esquire Male Grooming! These guys love anything slick and styling, and they're not afraid to take on a healthy beard either. If he's really up for some pampering, why not try out their luxury steamed face shave?
3/41 Park Road, Milton
P 3369 3063
www.malegrooming.com.au
Mr Snippets
Lads, lads, lads! Attention! There is a place where you can get a great haircut, good products, coffee, beers, an awesome salon soundtrack and bro-tastic banter from fellow lads. And its name is Mr Snippets. They also love musicians and encourage guitarists to come serenade their styling clients. Interesting…
134 Junction Road, Clayfield
P 3194 8387
www.facebook.com/mrsnippetsbs
Crown & Co.
If you've got a guy looking for a one-stop shop for all his hair, beard and moustache needs without all the bells and whistles, Crown & Co. will be his jam. Just walk on in to this quirky Fortitude Valley location, no appointment necessary, and enjoy your choice of Blackstar coffee, beer or coke with a cut and shave reminiscent of the classic barbershop experience.
368 Brunswick Street, Fortitude Valley
P 0431 761 061
www.crownandco.com.au
Jimmy Rod's Barbershop
Welcome to the menaissance, proclaims their website, and what a menaissance it is! Customers here are super loyal, as Jimmy's provides the kind of laid back, uber-masculine experience every guy wants when he goes to get his hair cut. None of that fancy female stuff and a friendly barber to spina yarn to.  And as their advertising says, "real barbers don't take appointments", so just waltz in for a quick trim.
Honourable mentions:
HQ Male Grooming
Men's Grooming Lounge
Jack's Barber
The Electric Chair