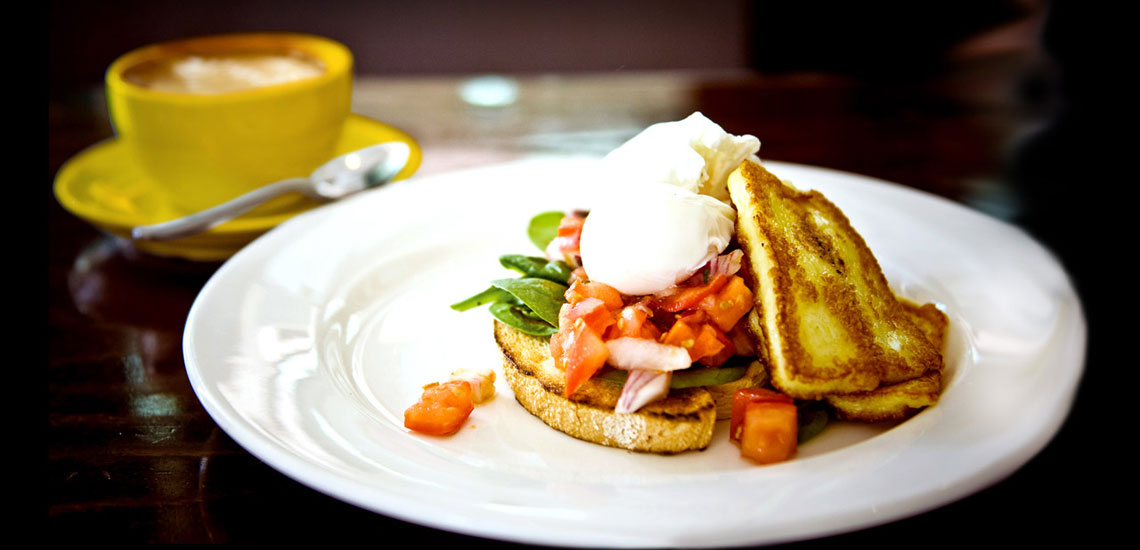 Brisbane's Best All-Day Breakfasts
Lunch menus just keep bacon our heart. No, we're not yolking. When you need an all-day breakfast (always), these places have got your back.
---
The perfect complement to a weekend lie-in, the all-day breakfast satiates all 2pm French toast cravings.
If the words "We're on our lunch menu now" send shivers down your spine, chances are you'll love this list of the best Brisbane joints that don't move onto salads and sandwiches come 12pm – or worse, 11.30am. What is UP with that?!
The geniuses at Vue are serving up breakfast for dinner on Fridays and Saturday nights. Think pumpkin and parmesan fritters with crispy pancetta, or French toast doused in lashings of cream and maple syrup with fresh strawberries. From Sunday to Thursday, breakfast is available well after lunch.
Monk & Grind, Fortitude Valley
As well as an online ordering service, an all-day breakfast menu and Di Bella coffee, Monk & Grind offers free wi-fi and power outlets at each table, which means you can eat breakfast after breakfast while you work away the day.
Being the smarties they are, the people behind Southside only have a brunch menu. The huevos rancheros – corn tortillas, fried eggs, black beans, salsa and avocado – is just as good for afternoon tea as it is for a post-run breakfast. Trust us.
Influenced entirely by what produce is in season, Merriweather has a simple but ever-changing all-day brunch menu. Go Scandi with their smoked (sustainable) fish with rye, beetroot and sorrel, or keep it classic with sourdough crumpets and a cold-pressed juice.
Bungalow 4171's breakfast served "all day, every day" is clearly something we can get behind. Try their bubble and squeak potato cake, or maybe a breakfast pizza with pancetta, rocket, tomatoes and goat's cheese, enjoyed in the breeze on an early Saturday afternoon.
This modern Middle East-inspired menu offers the amazing Asparagus and Peas with Baghdad Butter. Served grilled on Turkish bread with a great hunk of labne, this is the savoury breakfast you didn't know you needed in your life until now. You're welcome.
With plenty of space to spread yourself out, infamous spring onion hash browns and lawn bowls at your doorstep, why would you take your family anywhere else? Arthur's Green – set within the Red Hill Bowls Club – is a weekend afternoon in a nutshell.
Whether you're a smashed avo on sourdough kinda gal or a full breakfast kinda guy, Chester Street has you covered with their all-day menu. Order a Tim Tam milkshake or a Pimm's jug and settle in for a few hours. End the day, obviously, with cake.
This sweet family-owned café offers a breakfast burger, replete with bacon, egg, caramelised onion, tomato relish, cheese, lettuce and aioli. AND it's served with hash browns. Genius! Don't leave without trying one of their famous soda spiders.
Dive into a stack of blueberry ricotta pancakes piled up with caramelised banana, maple syrup, mascarpone and fresh strawberries. Or if you've just been to the gym next door, maybe the organic black quinoa porridge (served with almond milk, coconut and fruit) is more your style.
Crack open a craft beer and tuck into some bacon and eggs. This bustling old Queenslander turns up the atmosphere with a relaxed all-day breakfast menu perfect for long, lazy afternoons.
Any others you'd add to the list? Let us know over on our Facebook page!
Main image: Vue Lounge

Like this? Then you totally need to see these.
Brisbane's Best Breakfast Potato