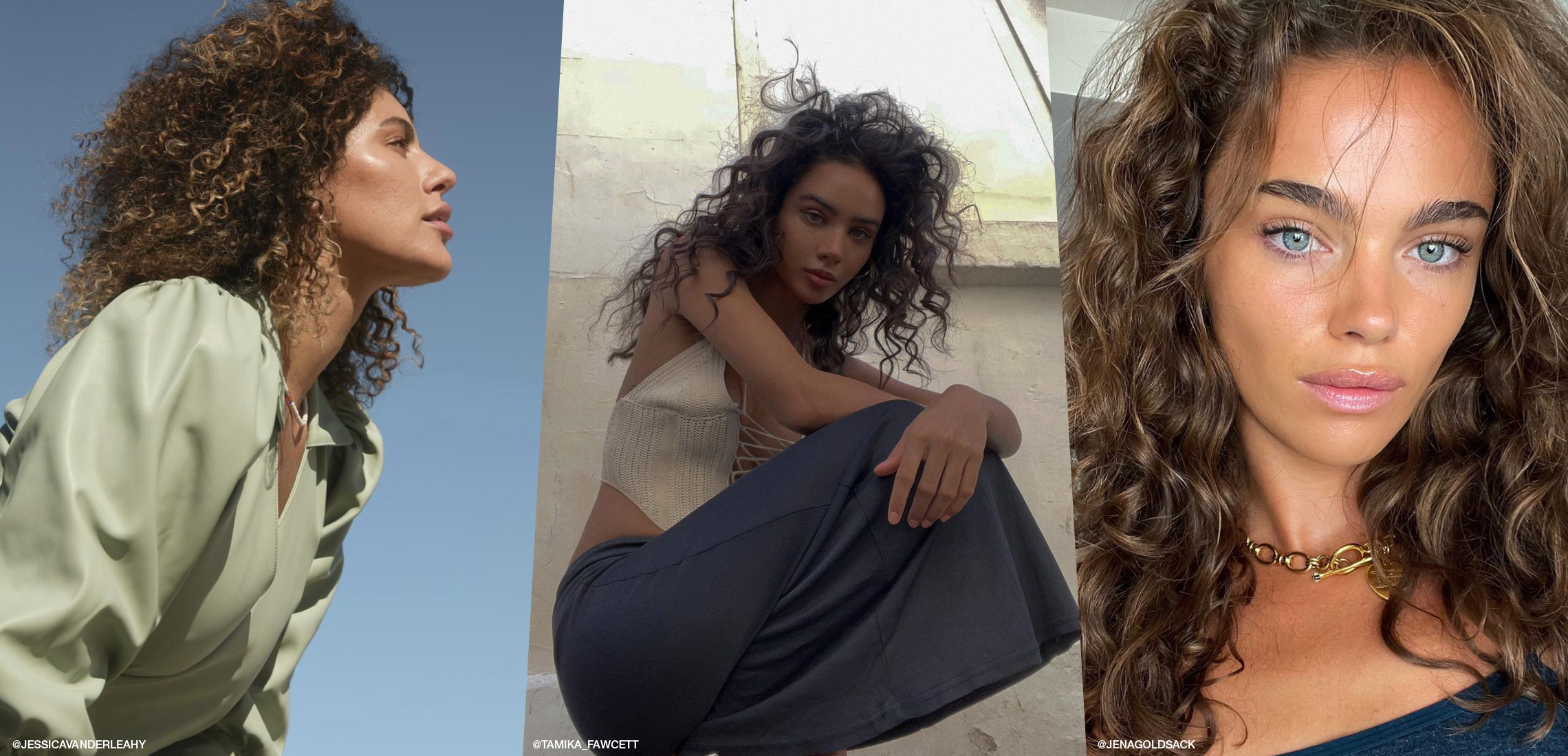 Beat The Frizz With Brisbane's Best Salons For Curly Hair
Make your locks rock!
---
Curly locks have a bad rep for misbehaving at the best of times, but 2022 is all about makin' what your mumma gave ya work, and we've got a slew of talented curl-tamers to prove it. 
This year, embrace the curl, don't dismiss it! With the right stylist behind you, fight the frizz and allow your curly locks to shine. Below are Brisbane's best salons for the curly-haired.
Did we miss someone from the list? Let us know here!
Bach Hair
Paddington
Ditch the heat and let your natural hair shine with the award-winning styling skills that call Bach Hair home! The talented crew here have over 30 years' experience understanding all sorts of hair textures so they can create a look that works for you. From tight curls to soft waves, Bach Hair pride themselves on the diversity of their clientele, using Wella and Kevin Murphy products specifically chosen for you and your hair's needs. Whether you're after a soft refresh or a full chop, the expert team will shape your cut to complement your unique features, so you can bounce out the door feeling your absolute best!
Ink For Hair
Newmarket
For a hair expert that truly understands your locks, look no further than the award-winning Ink For Hair. This distinguished salon will take into consideration your lifestyle, face shape, and hair type to create a flattering style that perfectly suits you. Whether you want to max your volume, frame your face, or keep it short and sweet, the precision cutting by these energetic stylists will mean you never have to fight with your hair again! Wendy Gunn and the team view your hair as an opportunity to enhance your overall look, so you can rest assured that you'll walk out the door with confidence boosting every step.
Revolution Hairdressing
Wilston
Curly hair girls are no strangers to Revolution, who house the skills and expertise to make your locks rock! The team here have mastered the art of the bounce, studying up on hydration and precision cutting to coax even the tightest of curls into their prime. Whether you've experienced a nightmare tangle or are just ready for a fresh new 'do, you can comfortably put your trust into the friendly team of specialists at Revolution, who will return the favour with world-class techniques and a healthy dose of TLC.
Togninis
Fortitude Valley
Lush curls come to life at the hands of the award-winning and diverse crew at Togninis! The 2021 Salon Team of the Year is full of stellar stylists who have mastered the techniques and studied up on the products to make your curls truly shine. With over 30 years' experience leading the Australian hair industry, all types of hair have made their way through Togninis' door, so you can rest assured they know exactly what they're doing. With a philosophy that's all about making hair fun, personal, stylish, and playful, Togninis are the experts at creating low maintenance hair that'll make you feel a million bucks!
Elysium Hair Brisbane
Brisbane City
Like Cinderella's glass slipper, this multi award-winning salon is all about finding your perfect hair fit! Elysium will pair you with the hairdresser who understands your hair best, whether you're rockin' ringlets or wearing waves. Specialising in the curl-by-curl cutting method, your tresses will look their best in and out of the salon. Frizz will also be kicked to the curb, as Elysium are well versed in hydration and use the Clever Curl range to tame your mane. As the four-time winners of Australian Salon of the Year, you can rest assured knowing your curls are in the best of hands!
Elizabeth JJ's on the Avenue
Ashgrove
As the home of natural hair in more ways than one, Elizabeth JJ's are all about sharing the curly love. With care and the right eco-friendly products, the friendly team will reverse any damage or stubborn tangles (yes, frizz, we're talking to you) and let your inner beauty shine through. Staying up to date with the latest techniques and trends, the crew here are also experts at perms to put the bounce into your locks. Not only will the skills at Elizabeth JJ's help you love your hair at its purest, but as an ethically conscious and organic salon, the planet will be feeling its best too! 
Cameo Rose Hair Boutique
Wavell Heights
The personalised service and royal treatment at Cameo Rose Hair Boutique is one to remember, but the curly hair treatment is one to talk about. Trust us, after the talented hair stylists have worked their magic with your curls, you'll be shouting about it from the rooftop! Dedicated to your satisfaction, the highly trained stylists at Cameo Rose Hair Boutique are your go-to for sweeping waves, gorgeous curls, and beautiful texture that you'll absolutely adore. Whether you're looking for a cut to boost natural waves or manage boisterous curls, or a treatment to inject a little must-needed hydration, the award-winning team at Cameo Rose Hair Boutique are the team to entrust your locks to. Curly gals know the importance of moisture-rich lock-loving hair products, and so do the team here, offering only the best like Olapex, K18 and the heavenly milk proteins of Milk_Shake.
Ms Francis Hair
Morningside
Hair is a deeply personal asset, and those with curls are lucky enough to have lots of natural texture to work with! The team at Ms Francis Hair are big fans of curly locks, and encourage those who have it to embrace it with the help of their professional knowledge and styling tricks. With a range of cutting and styling techniques developed in-house aimed to help you enhance your natural kinks, each session comes with a lesson on how to master the art of at-home management of unruly manes. Knowledge is power with curls, and this team are confident you'll leave with the best tips and tricks on how to keep them in check.
Rokstar
West End
When it comes to curly hair, the team at Rokstar Salon are our go-to for bringing out natural waves, adding bounce and hydration, and taming troublesome tresses. The award-wining, highly-trained squad that make up the team at Rokstar Salon are known for their noteworthy list of celebrity clients, awards, and reputation for delivering jaw-dropping results – every single time. With colour and style specialists ready to treat your hair to a little TLC, refresh your colour, or entirely revamp your look, you know you're in capable hands. With a Mediterranean-inspired spa area, Japanese shiatsu massage basins and complementary wine and cheese, you can sit back and indulge yourself in the Rokstar treatment you deserve and walk out with a glorious head of beautiful hair.
Alcyon Hair & Beauty
Kalinga
Don't be afraid to rock your curls – with the right team behind you, curly locks have never looked better, and the team at Alcyon Hair & Beauty are masters at delivering show-stopping results for those with more texture to their locks. With a number of clients on their books with curly hair, this team love to educate and recommend products that'll manage and highlight your texture. Knowing how to cut this hair type is paramount in decreasing frizz to ensure the right shape is achieved. A good cut and curly-hair specific products are key when it comes to making your curly locks bounce and frame your face. With Oribe and R+Co products at their disposal, the crew at Alcyon guarantee you'll love your frizz-free curls.
Hair By The Collective
East Brisbane
Curly girls know it's hard to find a stylist who can confidently work with their locks without a one-fits-all approach, which is why the personalised service at Hair By The Collective is truly the stuff of dreams. This full-service boutique salon is all about tailoring an experience that's unique to you and your hair's needs, offering artistry and fashion-forward styling every step of the way. Renowned for their precision cuts and custom colours this team of experienced creatives are dedicated to giving you the best experience possible. Oh, and did we mention their ethically sourced produced range? It's their modern way of thinking and putting others first, combined with their talented stylist that truly makes them stand out from the crowd. Book now and feel the difference for yourself!