The Brisbane Bucket List: 21 Iconic Things To Do In Our City
We'll take Brisbane any day!
---
Just a quick note: This post is sponsored. To prevent a paywall or annoying pop-up ads, we sometimes need to publish sponsored content but we only promote brands that we think are doing great things and our readers will love!
To celebrate our Homegrown edition we've found all the best things to do in Brisbane. So what are you waiting for? Go and start ticking off the list!
Go on a XXXX Brewery Tour and finish up with a beer tasting session and delicious beer tapas matching plate. In case you didn't know there's an alehouse at XXXX where you can go to for your favourite brew and meal any day of the week. You don't even need to book a tour for this, so why not make XXXX Alehouse your new local?
XXXX Brewery Tours & Ale House
Corner Black & Paten Streets, Milton
P 3361 7597
xxxx.com.au
Grab a deal at Brisbane's biggest outlet shopping destination with over 140 shops at DFO Brisbane, right next to the airport. We're sure you won't be disappointed with all your favourite stores like Nike, Oroton, Tommy Hilfiger and Sheridan on offer!
DFO Brisbane
18th Avenue, Skygate, Brisbane Airport
P 3305 9250
dfo.com.au/brisbane
Giddy up! Grab your friends and head to Brisbane Racing Club for an exciting and dapper day at the races. If you're looking for an eventful day out, keep your eyes peeled for one of their scheduled race days. Be ready to don your finest threads to impress the who's of who of Brisbane who will be out on the green ready for the ultimate photo opportunity. With live music, acclaimed event partners and plenty of bubbles, these events are not to be missed if you want to be in the Brisbane-know.
Brisbane Racing Club
Doomben: 75 Hampden Street, Ascot
Eagle Farm: 230 Lancaster Road, Ascot
P 3268 2171
brc.com.au
See the Brisbane River from a truly unique angle by jumping in a kayak and going on an adventure. After all, what's better than a day out on the water?
Kayak Fun
West End  Riverside Drive Pontoon
P 0490 065 474
kayakfun.com.au
Celebrate a milestone event of any kind at Bar Pacino with their world-famous Nutella Shots and party atmosphere. There's no way you'll be able to resist!
Bar Pacino
175 Eagle Street, Brisbane
P 3221 2397
bellezzagroup.com.au/bar-pacino
Discover fun with the whole family at Brisbane's best lifestyle precinct. Enjoy a round of Putt Putt,
 a special event, or alfresco dining at Victoria Park. It's the best way to spend a weekend with your loved ones.
Victoria Park
309 Herston Road, Brisbane City
P 3252 0666
victoriapark.com.au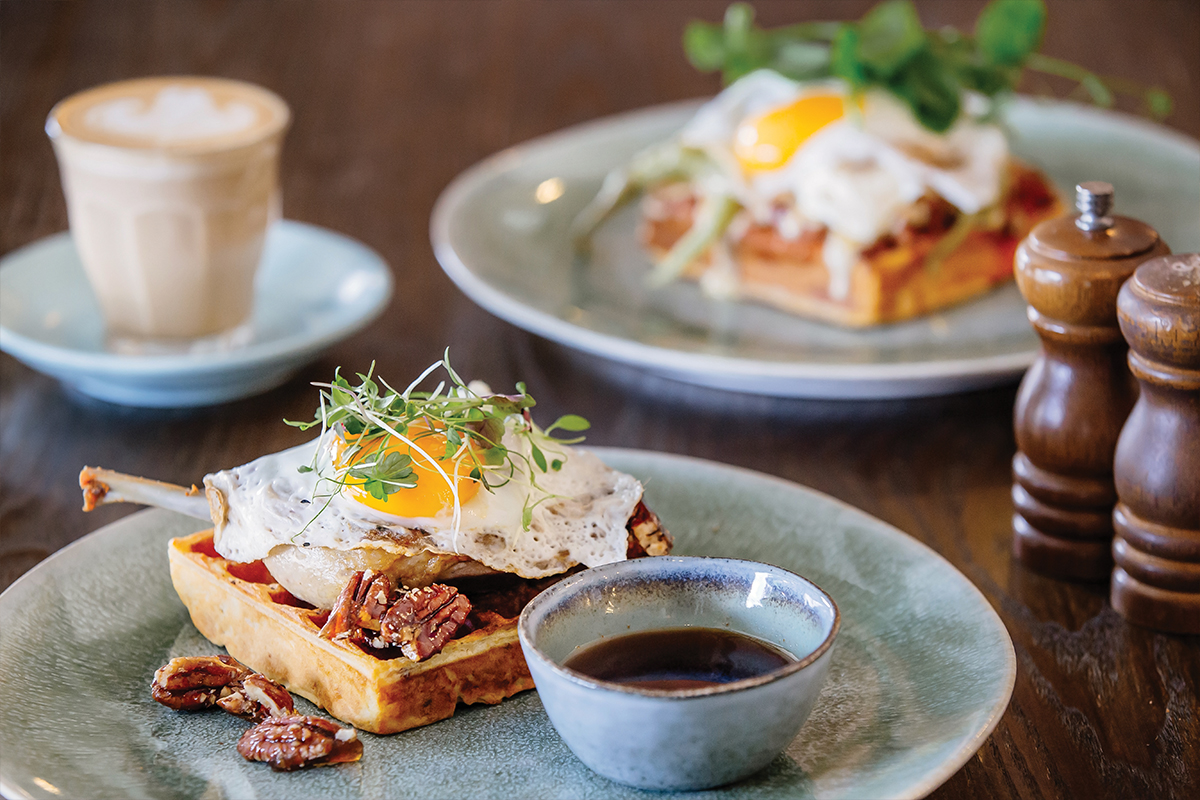 If you think you know waffles, think again! No visit to Brisbane is complete without trying the delicious flavours of the house-made duck or gringo waffles from this vintage-chic eatery.
Lady Marmalade Cafe
269 Logan Road, Stones Corner
P 3324 2480
ladymcafe.com
Head to Paddington's favourite destination – the perfect restaurant and bar fit for any occasion; for a seriously good time, Darling! With an unbeatable atmosphere and delicious food and drinks, you'll love visiting Darling and Co.
Darling & Co.
157 Given Terrace, Paddington
P 3051 7666
darlingpaddington.com.au
https://www.instagram.com/p/BtpNL9TH7DK/
The Lanes Fortitude Valley are nestled between some of Brisbane's most historic buildings. They are filled
 with delicious eats, local retailers and award-winning bars. Make sure you visit each of the three laneways, while you're there – the food will be hard to resist!
The Lanes Fortitude Valley
Winn Lane – Winn Street, Fortitude Valley
California Lane – 22 McLachlan St, Fortitude Valley
Bakery Lane – 690 Ann St, Fortitude Valley
thelanesfortitudevalley.com.au
Mouthwatering steaks are cooked to perfection at this contemporary no-fuss full-service steakhouse – living up to the reputation of 'Brisbane's Best Steaks'. With a selection of 8 cuts plus regular chef's recommendations and a dry aged option, you'll be spoilt for choice at Fiasco's Steakhouse.
The Morrison Hotel
640 Stanley Street, Woollongabba
P 3391 1413
morrisonhotel.com.au
To celebrate the first birthday of Black Hide by Gambaro at Treasury Brisbane, indulge in the hottest cocktail this June – the limited edition Madame Rouge. On top of their exquisite cocktails, this restaurant showcases mouthwatering seafood dishes, steaks, shared plates and so much more!
Black Hide By Gambaro At Treasury Brisbane
130 William Street, Brisbane City
P 3306 8888
treasurybrisbane.com.au
Experience Brisbane's most iconic structure and a unique perspective of the city from the Glass House Mountains to Moreton Bay! The views are absolutely breathtaking.
Story Bridge Adventure Climb
170 Main Street, Kangaroo Point
P (07) 3188 9070
storybridgeadventureclimb.com.au
A must-see for anyone in Brisbane, with spectacular panoramic views over the CBD and walking tracks through the National Park.
Brisbane Lookout Mt Coot-tha
1012 Sir Samuel Griffith Drive, Mt Coot-tha
brisbanelookout.com
In August, Queensland Theatre will bring the beloved Australian novel, Storm Boy, to the stage at QPAC. Family packages are available, so snatch up your tickets quickly before they're gone!
Queensland Theatre
78 Montague Road, West End
P 1800 355 528
queenslandtheatre.com.au
Relax and rejuvenate. Pamper and perspire. Bathe and bliss out. All this at one spa in the CBD. Welcome to Aquarius! The friendly team will be able to send you into ultimate relaxation mode with their ultra decadent and soothing treatments.
Aquarius Health And Medispa
Level 2, 70 Mary Street, Brisbane City
P 3009 5111
aquariushealthmedispa.com.au
https://www.instagram.com/p/BxmSmQahUTg/
Located in the heartbeat of Fortitude Valley, eat, drink, dine and work from Brisbane's biggest outdoor multi-purpose playground! The coolest part? X Cargo was created out of shipping containers and features a variety of bars and an open-air beer garden.
XCargo
37 Mclachlan Street, Fortitude Valley
P 3180 4783
xcargo.com.au
Experience a great atmosphere, 
live entertainment and delicious food from over 70 vendors, in particular the sensational seafood chowder back this June! This incredible dish is packed full of flavour, and we suggest you get in quick because it will only be around for a limited time. Why not head down to KombiAlley to finish off your visit with Eat Street's famous dessert concoctions?
Eat Street Northshore
221D Macarthur Ave, Hamilton
P 3180 4783
eatstreetmarkets.com
The perfect destination for people and families of all ages! Bask in the creative activities and the thought-provoking artworks that grace the walls.
Qagoma
Stanley Place, South Brisbane
P (07) 3840 7303
qagoma.qld.gov.au
Experience Brisbane sky high with incredible views whilst on a picnic, a birthday party, school trips and more.
The Wheel Of Brisbane
Russell Street, South Bank
P 07 3844 3464
thewheelofbrisbane.com.au
From University of Queensland to Northshore Hamilton, cruise the Brisbane River CityCats with a view that will rival that of your car windscreen.
Brisbane City Cat
translink.com.au
Whether you're a newcomer to our beautiful city or a born and raised local, there's no doubting the CBD and all it has to offer. With a vast range of shopping destinations, luxury venues, health and beauty havens and numerous dining experiences – the vibrancy and variety of the Brisbane CBD cannot be understated. Find out the best spots in the city here.
Liked this? You'll love these!
1. 6 Things To Do In Brisbane On A Saturday Night When You're Sick Of Drinking
2. The Ultimate Guide to Rainy Days In Brisbane
3. 23 Things To Do With Your BFF In Brisbane This Summer!
Feature image: Brisbane Marketing and Brisbane City Council
Things To Do In Brisbane