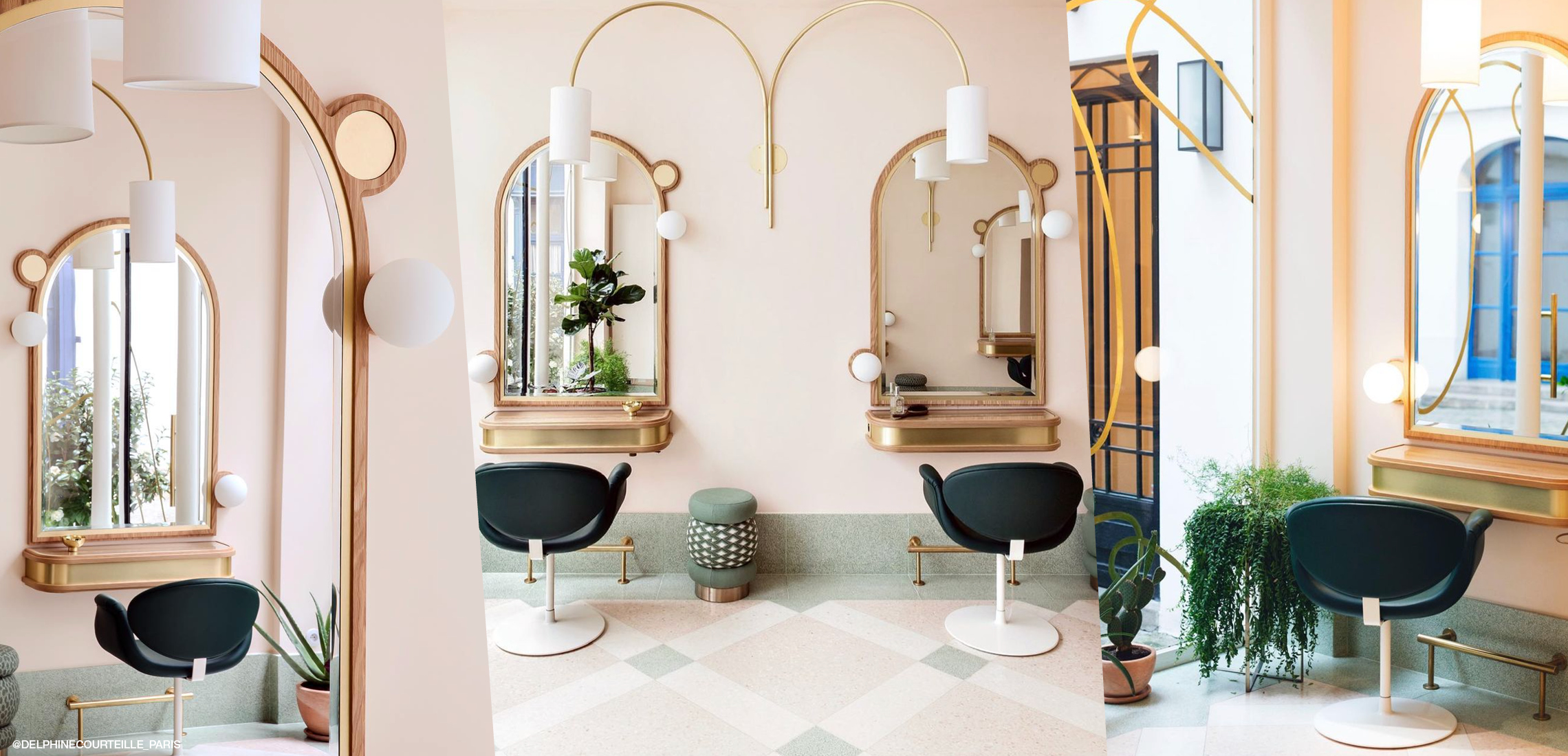 A Feast For The Eyes: Presenting BNE's Most Beautiful Hair Salons
IG worthy!
---
Call us shallow, but we're a sucker for beautiful interiors, and no hair transformation is as enjoyable than one surrounded by a stunning fitout. 
From skyhigh windows to Med-inspired interiors (and the rest!), we're loving what these salons are serving in 2022. 
For a fresh 'do transformation in an oh-so-aesthetic location, look no further than our pick of Brisbane's most beautiful salons.
Did we miss someone from the list? Let us know here!
Little Birdie Hair Co
Brisbane, Mooloolaba, Gympie
With three equally beautiful salons located in Brisbane, Gympie and the Sunshine Coast, you have your choice of stunning Little Birdie Hair Co locations. With indoor plants draping every countertop, upcycled and restored timber furniture and a warm earthy colour scheme, you'll feel instantly at home in this rustic, down-to-earth salon. Little Birdie Hair Co has the friendliest staff we've encountered as you can feel the love that the whole team puts into each and every aspect of your visit. If there's one word to describe Little Birdie Hair Co, it's wholesome. Focused on changing the way we think about hairdressing, this eco-friendly, low-tox, carbon-neutral salon cares as much about the planet, as it does the health of your hair. If their list of eco-friendly accolades isn't enough, their wholesome salons also offer complimentary cocktails, snacks, blankets, and a product refill station. Like a warm hug for the soul, the experience is certain to leave you feeling as fabulous on the inside as you look on the outside.
Cobelle Creative
Toowong
As soon as you enter the Cobelle Creative's new salon space, you know you're in for a luxurious experience. Opening their new doors in January, the fresh, clean, crisp, and airy salon is a perfect mix of Palm Springs-meets-Morocco. Everywhere you look, you'll be inspired. From the custom-made basins shipped from Italy, to the curved render archway and breeze block wall, the space is brimming with raw textures and carefully considered spaces, designed to enlighten. A warm and welcoming colour palette, the new salon invites you to come in and immerse yourself in its beauty as you receive your treatment. No attention to detail was spared in this eye-catching renovation, carefully thought out by Cobelle owner, Kristie Kesic. You won't find another salon like this in Brisbane, it truly is the most aesthetic space to compliment beautiful hair.
Mi Color
Paddington
Tucked into the charming streets of Paddington, this salon isn't just easy on the eyes but excellent for the soul, too! Mi Color Hair Specialists has a dedicated Tranquil Room where the one and only mission is to help you kick back and be treated to pure bliss and indulgence. The ornate mirrors and timber finishes are the perfect setting for beautiful hair transformations, and the shelves are lined with soft amber lighting to put you at ease. Just like how their services are all about you, the team here know that sometimes you need to take a break, which is why you can book a silent appointment and relax in the beautiful space.
Hairytales Hair Salon
Wavell Heights
Fancy a trip to the Mediterranean for a fresh and dreamy look? Then set your sights on the newly renovated Hairytales salon! Conveniently located near Chermside Shopping Centre, this slick space offers clean vibes to perfectly complement the crisp 'dos that leave their doors. In dashes of white marble and terrazzo pieces, the gold features throughout the salon give the minimalist aesthetic the perfect touch of elevated elegance. Each of the salon chairs also face full-length mirrors so you can watch the magic work of the talented team completely transform your entire look!  
Hey Hair
Windsor
Tucked into the gorgeously aesthetic Colwill Place is a hair hub filled to the brim with playful energy. Hey Hair is a feast for your eyes and hair – the boho boutique salon is literally a work of art with one of Australia's most in-demand artists, Bonnie Gray, having spent hours spreading her daring brush-strokes and hidden messages across the salon. The lush exterior welcomes you into luxe interiors to sit back and let Brisbane's rising talents and hair superstars transform your hair into a masterpiece itself, while indulging in a fresh delivery of Love Tea.
Hannah Kate Hair
Hendra
With a warm welcome always at the door, one step into this gorgeous hair haven and you'll feel completely at ease. Hannah Kate Hair is already renowned for creating the most beautiful tresses, and likewise their new and improved salon is aesthetic goals. From the gold mirrors to the timber features, the elevated space is fitted out with the perfect lighting to check out your new 'do from all angles. Nestled in the charming suburb of Hendra, the luxurious space paired with the exemplary customer service and delicious cocktails makes it very hard to leave!
The Disco
Stones Corner
Formerly Horse Meat Disco Salon, The Disco space has had a revamp for 2022 that's fresh, modern, and as sleek as the styles they produce. Featuring raw concrete, finished stainless steel, marble, and textured render, the architecturally designed new salon flaunts a contemporary look Brisbane hasn't seen before. Moving just a hop, skip, and a jump down the road from their previous salon space, this new location is a sign of the success this salon has built since first opening in 2012. The new and improved gallery-like showroom starts with a long hallway that spits you right out amongst the action, where their hairdressing skills are placed front and center on display. Their customised salon scent – a mix of Mediterranean lemon, jasmine, white amber, and blonde woods, is a sensory experience that instantly sets the mood for your luxury experience. Walking out with beautiful, too-good-to-be-true hair? That's just the cherry on top!
The Lounge & Co
Newstead, Ormiston, West End
Creating beautiful hair is one thing, but it's the environment that truly makes a salon experience unforgettable. At The Lounge & Co, you'll fall in love with their design aesthetic that features wooden chandeliers, adjustable lighting, soothing green interiors, personalised mirror notes, a complimentary drinks and nibbles menu, and so much more. Each of the three salons has been carefully designed to consider each client's comfort, while also maintaining a truly beautiful aesthetic. It's the perfect balance, and they've got it mastered! Winning awards as Queensland's most luxurious salon, you truly have to experience an appointment at The Lounge & Co for yourself.
Alcyon Hair & Beauty
Kalinga
Featuring wood grain cabinetry, black granite benches, 1920's-inspired chandeliers and gold furnishings, a salon experience doesn't get more luxurious than this. Located in the leafy suburb of Kalinga, Alcyon Hair & Beauty is a product of love between owner Deborah Cannizzaro and her father, who built their dream salon space eight years ago. Bursting with natural light, the salon is surrounded by beautifully manicured hedges and lawns. Inside, clients will welcome the heavenly private hair spa space, where you can sit back, relax, and enjoy that head massage without being on show. Elegant and crisp, this salon reflects Deborah's style and sophistication. From the styling chairs to the basins and basin chairs, Alcyon is as comfortable for their clients as it is beautiful to look at.
EdwardsAndCo
Fortitude Valley
Nestled in the Ada Lane precinct of The Calile Hotel, there's no salon space quite like EdwardsAndCo. The largest outlet of the prolific Jaye Edwards brand, this 40-chair sanctuary is a lavish addition to the casual luxury of the area, surrounded by greenery, and sleek, modern design. The enormous 350-square-meter marbled floor space includes a floor-to-ceiling Brian Connolly artwork, loft, and extending concrete verandah, perfect for people watching with a cocktail in hand while your new hue develops. With a nationwide reputation for creating some of the best colours, cuts, and styles, EdwardsAndCo is an experience unto itself. Best of all, thanks to it's five-star location, you can walk out the door and immediately head to lunch looking fresh and fabulous.
Rixon Hair
Brisbane City
They say you are a product of your environment, so it makes sense that Rixon Hair creates masterpieces. Located in a heritage building, this sleek, sophisticated city salon is a breath of fresh air – bright and open, the space is serene with a New York vibe thanks to the floor-to-ceiling warehouse-style glass windows that overlook the bustling street below. You'll love the clean, minimalist design of the salon floor composed of earthy textures, plenty of natural light, and pared-back luxury. Take the private lift from the street up to the salon and feel a world away from the action on Edward Street. Here, you can relax and unwind surrounded by style. 
Cambridge Hair Collective
Wynnum
Brimming with light and views of the bay, Cambridge Hair Collective is an oasis where clients relax in style while they await their hair transformation. Modern and sleek inside, the salon space is a pleasing mix of warm peach tones and black interiors, featuring curved archways, custom-made marble furniture pieces, and sits above the street level, offering a premium salon experience right from the get go. Unwind in this ambient haven with complimentary drinks and snacks, revel in their basin treatments, and enjoy the company of their friendly and approachable staff.
Biscuit Hair Studio
Bulimba
From the moment you step inside the Biscuit salon, you'll instantly fall in love. Full of warmth and natural stone textures, natural light, and soft curved walls, the newly opened Biscuit Studio is a world away from the bustling Oxford Street. Featuring a central concrete table used as a breakaway space, Biscuit is an aesthetic environment to while away the day while you await your next hair transformation. So, sit back, relax, and enjoy the unforgettably stylish experience at Biscuit!