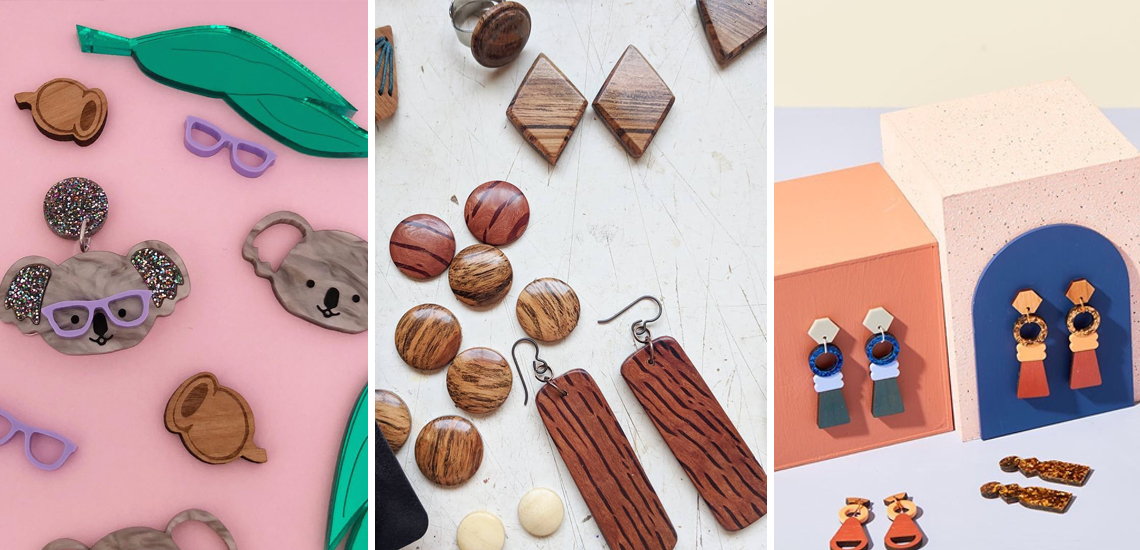 15 Australian-Made Accessory Brands You Should Add To Your Wardrobe This Spring
"Women should never go without earrings. Passing on them is an opportunity missed." - Jennifer Lopez
---
We've compiled a list of 15 admirable and ambitious Aussie creatives making their mark in the world of accessories – or more specifically, earrings. Whether you're keen on keeping it simple with fine gold studs or set on making a statement with daring dangles, this list is sure to leave you lurking local jewellers for handmade treasures on a loop. We definitely encourage an unapologetic splurge on any of these lovely, luxe and borderline loopy bits for your lobes.
Philippa Nilant's nifty Nimbin-based brand, Pixie Nut & Co sports a sweet selection of Australian illustrated cards, prints and accessories. We highly recommend her wooden, wilderness-inspired earrings of Bilbies, botanics and everything in between.
Dreaming of the day when spaghetti hoops and gnocchi studs hit store shelves? Well, today is not that day, friends. The good news is Gabby Diaz, owner of Pasta Mama Earrings is the pasta-powered pretty with a real knack for polymer creations and paradise prints. The best part? You can pre-order custom earrings to match any print or perky outfit from the Brisbane-based banger of a brand. Bellissimo!
Make all your forest fairy fantasies come alive with Hazel & Herb's riches in resin. Envelop your chosen flora in a clear capsule as a forever keepsake that's sure to commence conversation, or choose from the many marvelous creations already featured on their online store. Handcrafted on Tamborine Mountain in the Gold Coast Hinterlands, these botanic beauties are made from magic and yours for the taking.
https://www.instagram.com/p/BOO-v7zhaM3/
Sydney-based label, Liz Lau features a fabulous troupe of thick figured ladies, wonky and wonderful boob studs, hairy leg dangles and much more. Now that's what we call real and relatable. These empowering earrings are all for body positivity and self-love, giving 'statement jewellery' a whole new meaning. We're obsessed.
Based right here in Brisbane, Concrete Jellyfish showcases a remarkable range of earrings inspired by Australian identity, flora, fauna and the raw potential of a confident woman, young or old. If you're all for rainbow gems in resin or wearable works of art, this is your stop, beautiful.
Geometric gems and pastel pigments are a must aesthetic for the bodacious, bold and modern earring enthusiast. Therefore, Martha Jean, accessory brand by Ana Nicols Rees, is the perfect pit-stop for prismatic ear embellishments.
From Moths to Banksia beasties, Padamelon Studio exemplifies the weird and wonderful characters of the wild for your ear lobes. The Aussie label features a simple but sublime selection of wooden bits and bobs, creatively crafted from sustainably sourced materials. All the more reason for a swift spend.
We can't get enough of Kate from Koogii Kreative's koala dangles. How cute are they? Nab your own pair, or two, or three and make your bestie's big day a better one. All featured creations are original designs, handmade and rich in rainbow goodness to bring a beaming smile to your bonny face.
Founded by Canberra-based girl boss, wifey, mum and magic worker, Chloe, Ink Jewel Designs features a fantasia of cool toned and tasselled dangles, studs and hoops. The latest collection of poise purples, royal blues and a dash of turquoise make us mad with wanderlust. We'll take a pair of each, please and thank you.
Birthed from local talent and artistry, Wmen the Label is a proudly Australian, unapologetically feminist, and fashion-forward brand. Adored by Amy from Brisbane-bred band Sheppard, the fine jewellery designs effortlessly merges sustainability and simplicity with elegance and distinct detail.
https://www.instagram.com/p/Bm0YTXXHp3d/
When whack colour combos and whimsical tassels wed, Kingston Jewellery's flamboyant studs and dangles are brought to life. Established in 2012, the Victoria-based label sports a delightful range of dreamy and daring earrings that are to die for.
Babes wearing bearded bling is a thing and we're going bonkers for it. Sokoke Creative, founded by Samantha Elevato and situated in Geelong, sports a seriously banger collection of beady-eyed and cheeky dangles with personalities of their own. No need to phone a friend with these clever characters close to ear.
From Valentine pinks and reds, to gold crocheted earrings fit for the everyday goddess, Love, Ally features numerous romantic and riveting pieces that are sure to dazzle and decorate any attire. Handmade with love and care from your secret admirer, these earrings are made for the elegant and sweet.
Max and Mel showcases earrings handmade by dream duo, grandpa Max and his granddaughter, Mel. Their precious and pure pieces embody an earthy, natural aura that is sure to be divine to the eyes and dear to the heart. A label founded by family and adored by us.
Liked this? You'll love these!
1. 6 Of Our Favourite Brisbane Boutique Jewellers
2. We've Found 16 Accessory Labels That Every Fashion Girl Needs To Know About
3. 10 Spring Accessories You'll Be Wearing This Season