9 Things To Think About Before Getting A Tattoo
It pays to think before you ink!
---
Research
Don't just find something on Pinterest and get it tattooed on you because it looks "pretty." Research is really important if you're thinking about symbols or signs, especially if you're thinking about a quote in another language. Be careful with religious or cultural symbols as your new ink could get you into a lot of trouble if you were to travel overseas.
Take some time
Okay, so you've picked out a potential design, now take some time to think about it. With a bit of DIY you can print a picture on your body like a temporary tattoo, or if you know someone arty you could get them to draw it on you. Then 'try before you buy' and walk around with it for a couple of days to see if you like it.
Image: Giphy
Be original
Infinity symbols, love hearts, dream catchers, stars… they've been done before. Don't rip off a celebrity's tattoo unless it has some form of significance to you. Don't get the same tattoo as Rihanna just because it's Rihanna. If you haven't got something in mind, by all means seek inspiration online but don't expect a tattoo artist to recreate someone else's tattoo on you. At the end of the day, these people are artists, they are there to put their own style on something, not just copy a picture.
Think about your parents
Despite being 18 (or older) your parents opinions still matter. If they aren't happy about it, definitely take that into consideration. If it's going to cause major issues in your relationship then make sure you think long and hard about how important the tattoo is to you. When you put it in perspective, maybe it's not so important after all. If you think you can hide it and they won't find out because you're an adult now or you don't live at home, just wait… They WILL find out…
Matching Tattoos
This one is a tricky one, some people say matching tattoos with friends are cute, but what happens if something goes wrong in that friendship? Whilst you may be super close, just remember that people change and relationships can too. Some people might be able to reframe the idea and see the tattoo as a time of friendship, rather than a friendship gone bad, but it's worth considering.



Image: Giphy
Find an artist
If you have something in mind, find an artist that has a similar style. How to do this? Instagram works best. Tattoo artists use Instagram as a portfolio for their work, so have a quick scroll and see what their style is. If you want something heavily shaded, or predominantly black and white shading you wouldn't go to an artist or a studio that specialises in bright, bold colours. If you're not sure or don't know any artists, have a look at some tattoo studios and explore their artists.
Don't expect them to be cheap

Tattoos are for life, so expect them to be a bit pricey. Studios often require $100 deposit to secure your appointment, which is then taken off the price of your tattoo. Costs vary from place to place, but ask your artist beforehand if they can quote you. Remember that you are paying someone to concentrate for up to two or three hours (depending on the design) and they have to make a living too.
Placement

Before you have any consultation or even go near the tattoo gun, think of where you want your design to go. Remember, the placement of your new tattoo may affect your future fashion choices! If your tattoo is on your shoulder, know that it will be visible wearing singlets. If it's on your chest or rib area, whenever you wear a white top your tattoo will be peeking through. If it's your first or second tattoo, it is best to get it somewhere that isn't visible day to day. So regardless of your job or career choice, you can be sure that your love of tatts won't hold you back!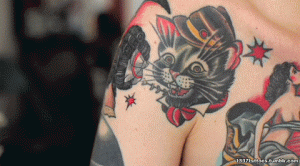 Image: Giphy
Don't get a tattoo while drunk
Besides it being the worst idea ever, alcohol thins your blood and can result in all sorts of nasty after effects. Make a conscious decision and leave the tattoos for when you're sober. Also be careful while you're travelling as different countries have different standards of hygiene and safety when it comes to tattoos. Make sure you educate yourself before walking into a parlour to get inked. Check that the studio is sterile, the artist is a professional (you can ask to see their qualifications) and make sure the needles are all new.

Liked this? You'll love these!
Cosmetic Tattooists You Need To Know About
Style Trail: Would you get your eyebrows or eyeliner tattooed?
Meet the Grunge Artist with 141k Insta-followers