10 Swimming Holes Around Brisbane To Cool Off In
Grab your cossie, pack the sunscreen and fill up the petrol tank.
---
Brisbane's hot weather bringing you down? Need to find a way to cool off? We know how you feel. While we are blessed with an average of 261 sunny days each year (Melbourne only has 185, so we are a little smug), sometimes the hot weather can be a bit more of a curse than a blessing. Luckily, we are spoilt for choice with heaps of watering holes around Brisbane to explore, discover, and, most importantly, cool off in. If you need to get out of the air-con, are sick of sweating, or simply want to discover somewhere new, we've rounded up our pick of the best swimming holes Brisbane has to offer. Weekend plans = sorted!
Enoggera Reservoir | The Gap
Within the green and leafy streets of the Gap, you'll find a hidden treasure—the Enoggera Reservoir. This concrete spillway, built in 1866, is an awesome escape for family and friends to have a fun day out. With a similar vibe and feel to a European lake, this watery playground is a recreational fun zone, where you are welcome to swim, kayak, canoe or simply lay on inflatables and relax. At the designated swimming beach you'll find a sectioned off area to provide a safe spot for the kids to have a swim. If you are the more adventurous type, take a walk up the Walkabout Creek Track and have a go on the rope swing! Get out that huge inflatable swan you got for Christmas, run to the water's edge and have a splash at this freshwater swimming hole.
How to find it: Head to Walkabout Creek on Mount Nebo Road. Park in the carpark for the visitor centre. A short 4-minute walk down an easy track will lead you to the reservoir's edge.
Kondalilla Falls | Montville
Embedded in the Sunshine Coast's Hinterland, is where you will find Kondalilla Falls—a natural wonder. With an abundance of wildlife and beautiful forestry, this subtropical swimming hole is the perfect place to escape the heat. Walk through the wondrous walking track, alongside tropical trees to then be welcomed by a cascading waterfall. Amidst the lush surroundings, shady trees and moss-covered grass beds, you'll find a picnic area, fitted with barbeques and toilet facilities. So bring a packed lunch, cool drinks and head to this little spot of tranquillity!
How to find it: Kondalilla Falls has it's very own carpark! Simply plug 74 Kondalilla Falls Rd into your GPS and let it lead the way. A 150-metre track will lead you straight to the watering hole.
Settlement Cove Lagoon | Redcliffe
A tropical seafront pool a stone's throw from the city, Settlement Cove Lagoon is a favourite for families, especially with littlies that love a shallow dip or paddle in the water. However, what makes this swimming destination so special is its multiple areas, meaning there is something for everyone. There is a fenced off area for young kids, with water jets, mushroom fountains and water-squirting lizards. Then for the big kids, you'll find that further along the lagoon, the water gets a bit deeper. Overlooking Redcliffe's foreshore, this pool paradise is accompanied by a picnic spot, so after a swim, you can enjoy a nice seaside lunch with friends or family.
How to find it: The lagoon has plenty of parking and is situated on the southern end of Redcliffe Parade near the Anzac Ave roundabout.
Cedar Creek | Samford
In Brisbane, Cedar Creek has been a long time family favourite! This rock amphitheatre is packed with wondrous waterfalls, rock pools, fishing spots and plenty of flora and fauna. Just 30-minutes north of Brisbane, this scenic and picturesque area feels years away from the bustling city. Dive right in and cool off—water you waiting for?!
How to find it: Cedar Creek Road stretches a fairly far, but as you drive along you will spot a outcrop of road near a reststop. This is where drivers pull over to park, and then follow a winding footpath along the edge of the creek. Keep walking until you find a spot that looks good to you!
Lower Portals | Mount Barney
This one is definitely for those adventure nuts out there! Amongst one of the largest undisturbed bush lands in SEQ, you'll find yourself enduring a rigorous 7-round trip hike, filled with rugged terrain and steep slopes. However, all worth your while, because once you find yourself in a lush gully, you've entered the home of the Lower Portals. Tucked behind the Lower Portals you will find Barney Waterfall and the stunning Moonlight Slabs rocks. Here you can swim in a series of rock pools filled with crisp, crystalline water and take in the pristine surroundings.
How to find it: This one will take a little more effort to explain, but we promise it is worth it.
To get to the carpark you need to take the Mt Lindesay Highway from Brisbane. Once you get through Beaudesert, turn right at the traffic lights to head towards Rathdowney. Once passing Rathdowney township, turn right onto Boonah-Rathdowney Road and then left onto Upper Logan Road. Along here you will come across Lower Portals Road on your right, and from here you can follow the signs to the Lower Portals carpark. Once you reach the carpark you can follow the signs for the 3.7km hike up to the Lower Portals! After you reach the Lower Portals the hike up to the Moonlight Slabs and Mt Barney Waterfall is not signed, so you'll need to find the rough track on your right that heads up a slight hill. Now, simply rockhop down the creek for about 50 minutes until you head straight into the waterfall! We warned you this one wouldn't be easy…
Gardners Falls | Maleny
Put some TLC on because you'll be chasing waterfalls. Follow the bubbling waters downstream and enjoy a freshwater swim at Gardners Falls. Through native forestry and grassy hills, you'll find pretty pools, rock ledges and trickling fresh water. After you've let the kids play in the water, enjoy a post-swim snooze under the shady trees. Or for those of us that are brave, try the rope swing for a bit of fun and a rush of adrenaline.
How to find it: If reading the directions to the last one totally exhausted you, we promise this one is a bit easier. To get to the picturesque Gardners Falls, simple park in the carpark on the bank of Obi Obi Creek in Maleny (right at the end of Obi Lane S) and meander the short path downstream to the falls. Easy peasy.
Ithaca Swimming Pool | Paddington
Don't have a pool at home? Well then dive into Ithaca's swimming pool in Paddington. This little leisure precinct is filled with fun things to do. Whether it's swimming, sunbaking, or getting stuck into a good book poolside, Ithaca has got you covered (probably just as covered as you'll be in sunscreen).
How to find it: Just pop "Ithaca swimming pool" into Google maps and enjoy an easy drive to Caxton St. It doesn't get any easier than that!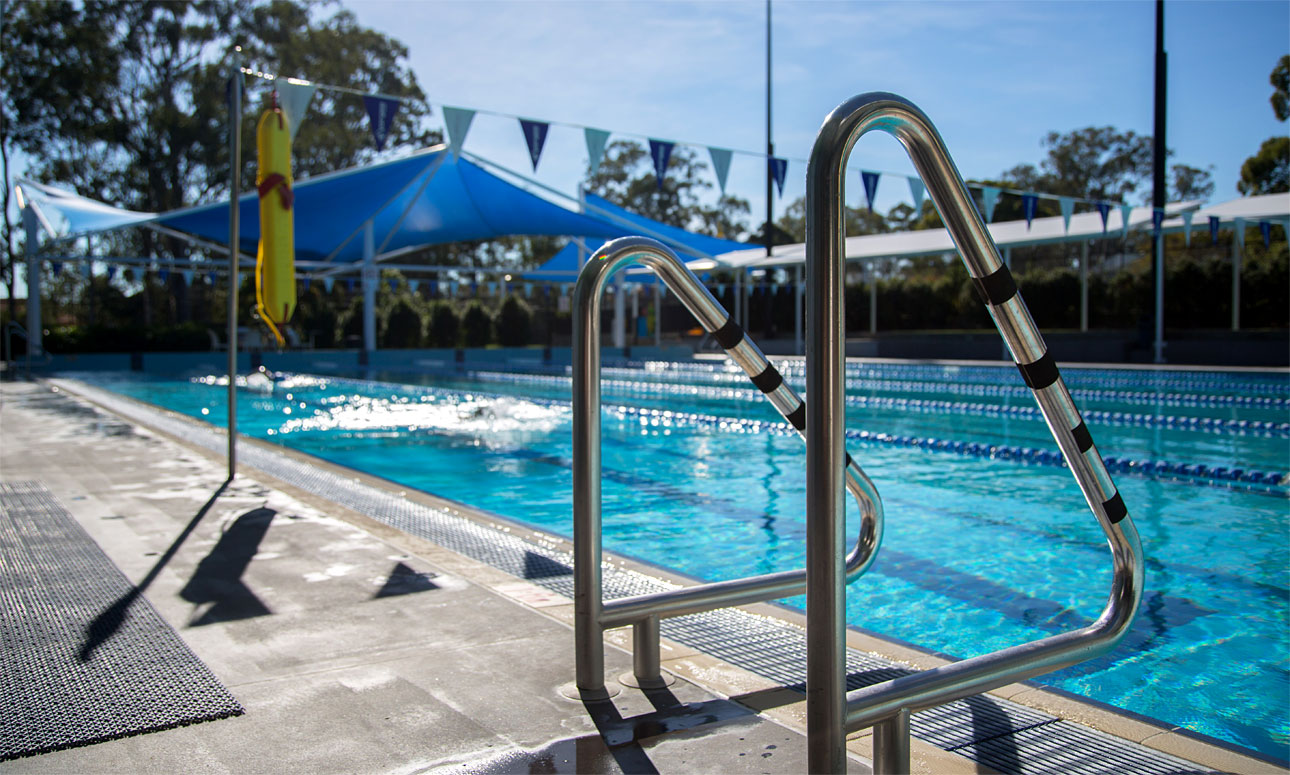 The Gorge | Moogerah Dam
The Gorge is gorgeous (pun intended!). On the far side of Moogerah Dam and 2.5km downstream from Moogerah's spillway, you will find this quiet, shady, secret little hideaway. A perfect spot to explore, just waiting for you to create your own adventure! The Gorge is 200m-long swimming hole (about 1.5m deep) with a deeper one just upstream. Enjoy the shady and peaceful surroundings while you go for a swim. Then after pull up a chair and enjoy a beverage on the water's edge—oh happy day!
How to find it: Drive down Boonah-Fassifern Rd and turn onto Lake Moogerah Road. After about 8km, turn right in Charlwood, then Gorge Road, crossing private land to reach the gate.
Currumbin Rock Pools | Currumbin
Ay, Currumbin! Tap into your adventurous spirit and feel nostalgic as you swing on ropes, slide down a rock slide, climb over rock surfaces and splash around in the water. The Currumbin Rock Pools are embedded with pebbled pathways, rocky rapids and green forestry. With plenty of exploring to do, enjoy the natural beauty of this shallow streamed oasis. Fair warning the water is icy, so it is absolutely perfect for those hot summer days! Also FYI—not only can you bring along your family and friends, but you can bring your furry amigos too!
How to find it: Make your way south along the Pacific Motorway until you can turn right onto Stewart Road. From here, turn left onto Currumbin Creek Road. After 8km you will come across Gallery Cafe on your right. Directly opposite you'll find a short path to take you down to the rock pools.
Manly Pool | Manly
Manly Pool is a safe and secure pool for all ages. It's heated all year round to ensure that the pool can be enjoyed no matter the season. As well as the 25-metre–eight-landed pool, there is a toddler pool, access ramp and a waterslide. Located on the foreshore, next to Manly Marina, it's a bayside of fun!
How to find it: Easily located in Brisbane's eastern suburb, park along the Royal Esplanade just north of the Manly Boat Harbour.
Liked this? You'll love these!
1. 9 Secret Swimming Holes to Escape Brisbane's Heat
2. Eat, Drink, Shop, Swim: The Ultimate 4 Hour Sunshine Coast Staycation
3. Why the Gold Coast is the Ultimate Girls Getaway Destination